Bhausaheb Hindi Ekanki Natya Spardha... Hindi One-Act Play Competition...



April 4, 2013 12:00:00 AM IST
MTG editorial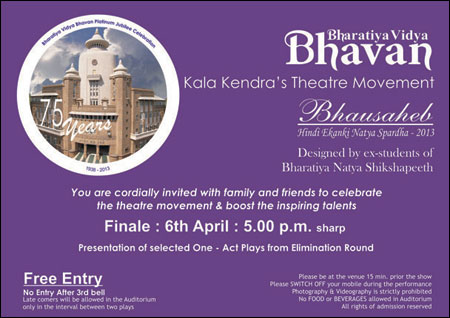 The Bhausaheb Hindi Ekanki Natya Spardha, now in its 11th year, is organised by the Bharatiya Vidya Bhavan's Kala Kendra and the ex-students of the Bharatiya Natya Shikshapeeth. The final round of the competition takes place on April 6, 2013 at Bharatiya Vidya Bhavan, Girgaum Chowpatty from 5 pm onwards. Amongst 25 entries, five or six plays will be selected for the final competition and will be judged by eminent personalities from theatre and film.

The subject for this year is "Relationship" - "Rishtey". New plays with fresh ideas will be encouraged.

Free entry.

The Bharatiya Vidya Bhavan's Kala Kendra is devoted to the development of Indian dance, drama, music and literature.


*Mumbai Theatre Guide takes no responsibility for change in schedule.


read / post your comments
- Junoon's upcoming 'Mumbai Local' sessions in August with Sudhanva Deshpande, Dr Jaikumar Radhakrishnan, Shernaz and Burjor Patel, Sonali Kulkarni, and Nandita Das... (new)
- Our upcoming eNatya Chaupal: Curtain-Raiser to the NCPA Pratibimb festival of Marathi plays...
- NCPA Zest! presents NORMAL...
- IDEA presents its 'Prem Utsav' 2015 (A festival dedicated to Munshi Premchand)...
- NCPA presents the 6th edition of Pratibimb Marathi Natya Utsav...
- Udayan presents LOCAL FOREIGNER...A play in English by Molina Singh...
- Reminiscing the Bhangwadi days of Gujarati theatre... Manoj Shah in conversation with Utkarsh Mazumdar... eNatya Chaupal: Friday, 17th July 2015...
- Tumbhi and Yatri present 'Khula Manch'...An open platform to showcase your talent...
- July magic with Junoon...Upcoming 'Mumbai Local' sessions with MS Sathyu, Ratna Pathak Shah, Dilip Prabhavalkar and others...
- Blue Frog will stage Eric Kaise's play CHARGE, directed by Yuki Ellias...
- Our next eNatya Chaupal with Salim Arif and Harsh Chhaya...On ''Back to Roots'' Journey from Cinema to Theatre...Friday, 26th June 2015...
- This Wednesday, our eNatya Chaupal with Deepa Gahlot and Brinda Miller...
- The Arshinagar Project (Kolkata) in association with The Hive presents IF IT BE NOW - FRAGMENTS AND IMPRESSIONS OF HAMLET...
- BLACK WITH EQUAL, published by the Sahitya Akademi will be brought to stage this June...
- Junoon's 'Mumbai Local' sessions in June...

---

Schedule