Opera: Past and Present...An illustrated talk by Nelly Miricioiu...



January 17, 2013 12:00:00 AM IST
MTG editorial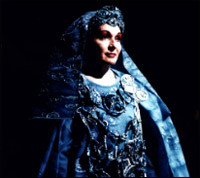 Universally acclaimed for her luscious sound, beautifully constructed technique and exceptional theatrical stage presence, Michael Davidson wrote about her in an article in Opera Magazine: "The highly individual timbre of Miricioiu's voice, her imagination and intensity, her exceptional range and sense of timing make for a unique talent."

Hailed as a singing-actress and a leading exponent as an artiste and teacher in the world today of the bel canto repertoire, Nelly Miricioiu's talk will discuss the changing World of Opera from her Covent Garden debut in 1982 as Nedda in I Pagliacci opposite John Vickers, Piero Cappuccili and Thomas Allen, and her La Scala debut as Lucia di Lammermoor in 1983, and having left Romania for a new life in England, her experiences working in the major opera houses around the world including her more recent performances for the Royal Opera from 2000 to 2010.

Her talk will also reflect with vocal presentations on her career, working with some of the most prestigious conductors and directors in leading roles to include Tosca (with Jose Carreras, Neil Schicoff), Mimi (with Placido Domingo), Violetta in La Traviata (with Franco Bonisolli, Roberto Alagna, Renato Bruson, Alfredo Kraus) and opposite many other leading artistes past and present.

Admission is on a first-come-first-served basis. (NCPA Members to receive preferential seating until 6.50 pm)

Date: Wednesday, January 23 2013
Time: 7 pm
Venue: Dance Theatre Godrej, NCPA

On Tuesday, January 22, Nelly Miricioiu (Soprano) and Maciej Pikulski (Piano) will present 'A Bel Canto Portrait' - a western classical/vocal recital at the Tata theatre at 7 pm.

*Mumbai Theatre Guide takes no responsibility for change in schedule.




read / post your comments
- Thespo 17 orientation meeting... (new)
- Junoon's upcoming 'Mumbai Local' sessions in August with Sudhanva Deshpande, Dr Jaikumar Radhakrishnan, Shernaz and Burjor Patel, Sonali Kulkarni, and Nandita Das...
- Our upcoming eNatya Chaupal: Curtain-Raiser to the NCPA Pratibimb festival of Marathi plays...
- NCPA Zest! presents NORMAL...
- IDEA presents its 'Prem Utsav' 2015 (A festival dedicated to Munshi Premchand)...
- NCPA presents the 6th edition of Pratibimb Marathi Natya Utsav...
- Udayan presents LOCAL FOREIGNER...A play in English by Molina Singh...
- Reminiscing the Bhangwadi days of Gujarati theatre... Manoj Shah in conversation with Utkarsh Mazumdar... eNatya Chaupal: Friday, 17th July 2015...
- Tumbhi and Yatri present 'Khula Manch'...An open platform to showcase your talent...
- July magic with Junoon...Upcoming 'Mumbai Local' sessions with MS Sathyu, Ratna Pathak Shah, Dilip Prabhavalkar and others...
- Blue Frog will stage Eric Kaise's play CHARGE, directed by Yuki Ellias...
- Our next eNatya Chaupal with Salim Arif and Harsh Chhaya...On ''Back to Roots'' Journey from Cinema to Theatre...Friday, 26th June 2015...
- This Wednesday, our eNatya Chaupal with Deepa Gahlot and Brinda Miller...
- The Arshinagar Project (Kolkata) in association with The Hive presents IF IT BE NOW - FRAGMENTS AND IMPRESSIONS OF HAMLET...
- BLACK WITH EQUAL, published by the Sahitya Akademi will be brought to stage this June...

---

Schedule