Vikalp @ Prithvi presents a film on Assam's mobile theatre groups and a film on Kutch artisans...



May 27, 2013 12:00:00 AM IST
MTG editorial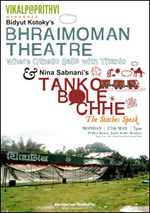 'Bhraimoman Theatre - Where Othello Sails with Titanic' directed by Bidyut Kotoky follows the biggest entertainment industry of northeast - Assam's mobile theatre groups - as they travel from village to town between September and April every year. The groups set up makeshift auditoriums at each stop and perform plays on every possible subject, from Princess Diana being chased by paparazzi to 9/11.

'Tanko Bole Chhe' ('The Stitches Speak'), an animated documentary by Nina Sabnani, celebrates the art and passion of Kutch artisans. Through the narrative art of applique and embroideries, the artisans articulate their responses to life and events as traumatic as the earthquake and as joyful as flying a kite.

Both the film-makers will be present for a Q&A session.

Screening Details:

Monday, 27 May, 7 pm

At Prithvi House, Opposite Prithvi Theatre, Janki Kutir, Juhu Church Road, Juhu, Bombay

Entry Free | On a First-Come-First-Seated Basis

For any queries, email vikalp.prithvi@gmail.com

*Mumbai Theatre Guide takes no responsibility for change in schedule.





Schedule