Vikalp @ Prithvi presents a film on Assam's mobile theatre groups and a film on Kutch artisans...



May 27, 2013 12:00:00 AM IST
MTG editorial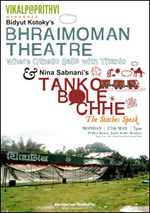 'Bhraimoman Theatre - Where Othello Sails with Titanic' directed by Bidyut Kotoky follows the biggest entertainment industry of northeast - Assam's mobile theatre groups - as they travel from village to town between September and April every year. The groups set up makeshift auditoriums at each stop and perform plays on every possible subject, from Princess Diana being chased by paparazzi to 9/11.

'Tanko Bole Chhe' ('The Stitches Speak'), an animated documentary by Nina Sabnani, celebrates the art and passion of Kutch artisans. Through the narrative art of applique and embroideries, the artisans articulate their responses to life and events as traumatic as the earthquake and as joyful as flying a kite.

Both the film-makers will be present for a Q&A session.

Screening Details:

Monday, 27 May, 7 pm

At Prithvi House, Opposite Prithvi Theatre, Janki Kutir, Juhu Church Road, Juhu, Bombay

Entry Free | On a First-Come-First-Seated Basis

For any queries, email vikalp.prithvi@gmail.com

*Mumbai Theatre Guide takes no responsibility for change in schedule.




read / post your comments
- Thespo 17 orientation meeting... (new)
- Junoon's upcoming 'Mumbai Local' sessions in August with Sudhanva Deshpande, Dr Jaikumar Radhakrishnan, Shernaz and Burjor Patel, Sonali Kulkarni, and Nandita Das...
- Our upcoming eNatya Chaupal: Curtain-Raiser to the NCPA Pratibimb festival of Marathi plays...
- NCPA Zest! presents NORMAL...
- IDEA presents its 'Prem Utsav' 2015 (A festival dedicated to Munshi Premchand)...
- NCPA presents the 6th edition of Pratibimb Marathi Natya Utsav...
- Udayan presents LOCAL FOREIGNER...A play in English by Molina Singh...
- Reminiscing the Bhangwadi days of Gujarati theatre... Manoj Shah in conversation with Utkarsh Mazumdar... eNatya Chaupal: Friday, 17th July 2015...
- Tumbhi and Yatri present 'Khula Manch'...An open platform to showcase your talent...
- July magic with Junoon...Upcoming 'Mumbai Local' sessions with MS Sathyu, Ratna Pathak Shah, Dilip Prabhavalkar and others...
- Blue Frog will stage Eric Kaise's play CHARGE, directed by Yuki Ellias...
- Our next eNatya Chaupal with Salim Arif and Harsh Chhaya...On ''Back to Roots'' Journey from Cinema to Theatre...Friday, 26th June 2015...
- This Wednesday, our eNatya Chaupal with Deepa Gahlot and Brinda Miller...
- The Arshinagar Project (Kolkata) in association with The Hive presents IF IT BE NOW - FRAGMENTS AND IMPRESSIONS OF HAMLET...
- BLACK WITH EQUAL, published by the Sahitya Akademi will be brought to stage this June...

---

Schedule