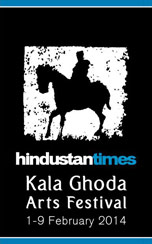 Every year, the nine day Kala Ghoda Arts Festival takes place from the first Saturday in February till the next Sunday. The dates for this year's festival are February 1 to February 9, 2014. The Kala Ghoda Arts Festival, now in its 16th year, is a community celebration of the arts within one of the most beautiful and historic precincts of Mumbai, The Kala Ghoda Art District.

It is open to all, free of charge.

It has traditionally offered various programmes in Visual Art, Music, Theatre, Dance, Street Acts, Heritage Walks, Literature and Workshops for children as well as adults

The Festival has grown exponentially, and is hugely successful, drawing over 150,000 people from all over the city to 350 events over 9 days. Tourists from all over the world plan their trip to Mumbai to witness the Kala Ghoda Arts Festival.

Funds raised from the festival go towards the restoration and upkeep of the area. Several heritage buildings and institutions in the area have benefited from this.

To know more about the festival and all the events visit http://www.kalaghodaassociation.com/

To know more about the theatre programme at the festival this year, visit http://www.kalaghodaassociation.com/eventdetails.aspx?catid=111&id=102

Mumbai Theatre Guide takes no responsibility for change in schedule.