The Kala Ghoda Arts Festival 2014...



January 22, 2014 04:41:10 PM IST
MTG editorial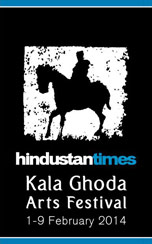 Every year, the nine day Kala Ghoda Arts Festival takes place from the first Saturday in February till the next Sunday. The dates for this year's festival are February 1 to February 9, 2014. The Kala Ghoda Arts Festival, now in its 16th year, is a community celebration of the arts within one of the most beautiful and historic precincts of Mumbai, The Kala Ghoda Art District.

It is open to all, free of charge.

It has traditionally offered various programmes in Visual Art, Music, Theatre, Dance, Street Acts, Heritage Walks, Literature and Workshops for children as well as adults

The Festival has grown exponentially, and is hugely successful, drawing over 150,000 people from all over the city to 350 events over 9 days. Tourists from all over the world plan their trip to Mumbai to witness the Kala Ghoda Arts Festival.

Funds raised from the festival go towards the restoration and upkeep of the area. Several heritage buildings and institutions in the area have benefited from this.

To know more about the festival and all the events visit http://www.kalaghodaassociation.com/

To know more about the theatre programme at the festival this year, visit http://www.kalaghodaassociation.com/eventdetails.aspx?catid=111&id=102

Mumbai Theatre Guide takes no responsibility for change in schedule.




read / post your comments
- Revisiting Bhisham Sahani's wit to celebrate his Century year with Kopal Theatre...Featuring Nasseruddin Shah and others... (new)
- Astitva in collaboration with NCPA presents 'Kalpana Ek Aavishkaar Anek'...A Marathi One Act Play Competition... (new)
- Thespo 17 orientation meeting...
- Junoon's upcoming 'Mumbai Local' sessions in August with Sudhanva Deshpande, Dr Jaikumar Radhakrishnan, Shernaz and Burjor Patel, Sonali Kulkarni, and Nandita Das...
- Our upcoming eNatya Chaupal: Curtain-Raiser to the NCPA Pratibimb festival of Marathi plays...
- NCPA Zest! presents NORMAL...
- IDEA presents its 'Prem Utsav' 2015 (A festival dedicated to Munshi Premchand)...
- NCPA presents the 6th edition of Pratibimb Marathi Natya Utsav...
- Udayan presents LOCAL FOREIGNER...A play in English by Molina Singh...
- Reminiscing the Bhangwadi days of Gujarati theatre... Manoj Shah in conversation with Utkarsh Mazumdar... eNatya Chaupal: Friday, 17th July 2015...
- Tumbhi and Yatri present 'Khula Manch'...An open platform to showcase your talent...
- July magic with Junoon...Upcoming 'Mumbai Local' sessions with MS Sathyu, Ratna Pathak Shah, Dilip Prabhavalkar and others...
- Blue Frog will stage Eric Kaise's play CHARGE, directed by Yuki Ellias...
- Our next eNatya Chaupal with Salim Arif and Harsh Chhaya...On ''Back to Roots'' Journey from Cinema to Theatre...Friday, 26th June 2015...
- This Wednesday, our eNatya Chaupal with Deepa Gahlot and Brinda Miller...

---

Schedule