| | |
| --- | --- |
| Director : | Salim Arif |
| Cast : | Lubna Salim, Atul Kulkarni, Anup Soni, Ganesh Yadav, Yashpal Sharma & Kishore Kadam |

KHARAASHEIN
---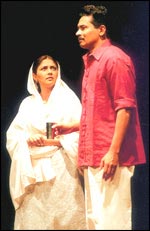 "Kharaashein" - The Scars from Riots is a collage of Gulzar's literary creations on stage. The stories and poems are linked by the fact that all are set against the backdrop of riots. Hilsa the first story is about the typical middle-class attitude in a riot torn city. Raavi Paar the second story is set against the chaos and trauma of partition and a family's disintegration in the process. Khauff is about fear and its impact on the psyche of a normal man who suffers from anxiety. Khuda-Haafiz is a dramatization of Samaresh Basu's 'Aadaab' that has been adapted by Gulzar. It explores a relationship, which evolves under the duress of a riot-inflicted situation.

These four presentations are interwoven with selections of Gulzar's poetry, some of which has been written specially for this play.

---
| | |
| --- | --- |
| | Kharaashein Play Schedule(s) |
No upcoming shows.