Schedule
No upcoming shows.
It is rightly said that India lives in several generations simultaneously. In this familiar family, a mother cooks; the father says his prayers; eats wordlessly; demands his tiffin grumpily and then strides off to work self-importantly. The mother smiles indulgently, gratefully, dutifully. Then there is the daughter-in-law who wakes up late, starts her day by hash tagging her status on the social media and then rushes off to work with a sexy, tousled look, leaving behind her lovelorn husband to tie up the odd ends. The two extremes of the traditional and the modern household! You would think that the two extremes are so disconnected. But not really. Caught between these two worlds is our hero. His sacrificing mother buried her flautist talent in the kitchen while his free-spirited wife goes out enhancing her superfluous social status.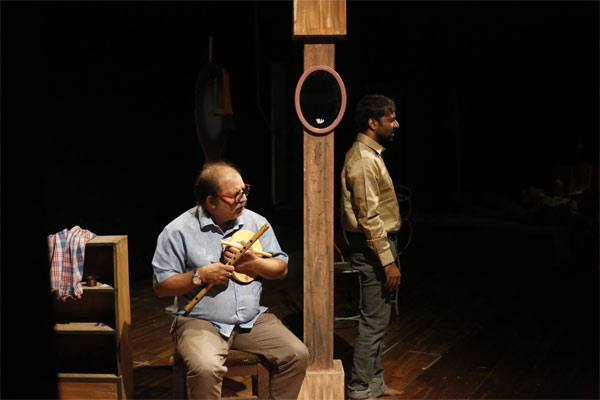 The hero's elder brother has walked out of their tradition bound home seeking spiritual emancipation. "Dada samudra zaala" (Brother has become the ocean), summarizes his younger brother ever so succinctly. His pretty wife seeks a "connection" with him, while he looks for the "Absolute" between them. The wife is haunted by a past with a philandering mother who has neglected her in favour of her many paramours; she has fought with her loneliness through social media likes and comments. And now she's addicted to it, so much so, that all her emotions are expressed only through hash tags! Will the two worlds meet, merge, and evolve?

The play is an abstract, philosophical take on the contemporary social scenario by writer Yugandhar Deshpande and is conveyed meaningfully by the director Mandar Deshpande on stage. He creates multiple scenes simultaneously and even fits in a modern art gallery in the centre to narrate the tale of entangled souls. The two actresses are the substance of the show; Rama Joshi as the sacrificing mother is very natural, but the scene stealer is the beautiful Gauri Nalavade - dancing, giggling, sobbing and posing for endless selfies – she lives the role of the confused, modern woman staggering away through the maze of social media. This is a very well-crafted play.

*Deepa Karmalkar is a film and theatre reviewer. She has been an entertainment journalist for over fifteen years.