Shomshuklla, a popular Hindi pop singer, also famed for her soulful fusion renditions of Bengali Rabindrasangeet and poetess of 'I have seen that face before', is now set to make her directorial theatre debut with a play titled 'I HAVE GONE MARKING'. Written, designed and directed by Shomshuklla, the cast comprises Sumanto Chattopadhyay and Sugandha Garg and will show at Prithvi Theatre in Mumbai on November 21st, 22nd and 23rd.

Speaking of her theatre debut, Shomshuklla says, "After expressing myself through music and poetry, it is an exhilarating experience, expressing myself through theatre for the first time. I have been exposed to Bengali theatre from an early age and my writing background enabled me to mould my thoughts into a script. With this play I have also experimented with design and direction, attempting to create something uncommon out of a common story."'

About the play - The play tells the story of a young couple who fall in love while working together and go in for a live-in relationship. They bask in each other's affection and dream of their lives together. The woman, who is fun loving and full of zest, wants nothing more than to spend her life with this man. But destiny seems to have something else in store for them. The woman falls ill and eventually has to bid farewell to her lover. This play shows the pain, the agony and the moments of happiness the man spent with his woman.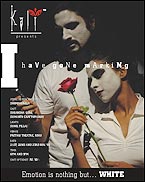 About Shomshuklla - Shomshuklla grew up in Kolkata and chose singing as her vocation. The past years have seen her establish herself as an expressive singer specializing in Indian music. Shomshuklla has many successful music albums to her credit including DHINTARA (1999), RAHEIN (2001), GLIMPSE (2003), CAFE KALIGHAT (2004), ELECTRIK (2004) and KOLKATA JAM (2005). Among her other interests are writing and the reflective verses of Rumi. Along with music, she recently chose words and verses as another form of expression and compiled her debut volume of poetry 'I HAVE SEEN THAT FACE BEFORE' published by Rupa & Co.

Profiles of Cast
Sumanto Chattopadhyay
Sumanto has acted as the Buddha on stage, played a terrorist on film and wooed Bollywood babe Kareena Kapoor in the Peter England TV commercial. He is also the Group Creative Director at O&M in Mumbai and in Kolkata.

Sumanto played the main role in the drama, THE LIFE OF GAUTAM BUDDHA directed by Lushin Dubey and Bubbles Sabharwal. Sumanto was also the protagonist in Kumar Shahani's 'Char Adhyay', based on Rabindranath Tagore's novel of the same name. Sumanto's stage debut was in Hosi Vasunia's BAREFOOT IN MUMBAI. Playing to houseful audiences in Mumbai, Pune and Dubai, the play helped Sumanto cut his teeth in theatre and taught him a thing or two about comic timing.

Sumanto has many modeling assignments to his credit and his other passion is writing, having contributed to various magazines and newspapers on topics spanning from advertising to travel.

Sugandha Garg
Sugandha Garg has been a BBC anchor for 3 years for 'HAATH SE HAATH MILA'. She has acted in 3 music videos, both Hindi and Bengali. She has acted in Zee's television serial KABHI HAAN KABHI NA and has been an assistant director for many ad commercials.

An exceptional singer, Sugandha was one of the final 15 talented singers selected in CHANNEL [V] POPSTARS. She is also a great dancer who loves Salsa and Jazz.

She is making her debut as a theatre actress in I HAVE GONE MARKING.

Booking starts at Prithvi on 17th November 2006.
Cost of ticket: Rs. 50
There will be two shows on each day: 6:00 & 9:00 pm.


*The above information is courtesy 'Kali'. Mumbai Theatre Guide takes no responsibility for change in schedule.