After a successful series of shows in Gujarat, the full length play on Mahatma Gandhi's wife Kasturba will be performed for the first time in Mumbai on May 19, 2013 at the Bhaidas auditorium, Vile Parle (W) at 3:30 p.m.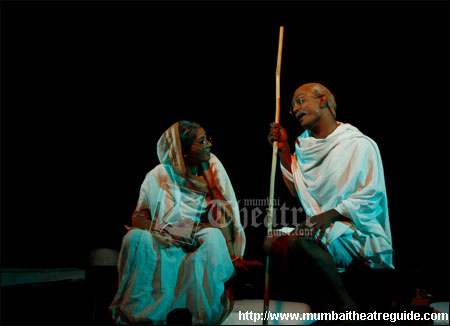 Gandhian kathakaar and veteran, Narayan Desai wrote this play at the age of 86 years. His initiative is to spread the Gandhian thoughts through the medium of theatre. The first performance of the play was on February 22, which is the death anniversary of Kasturba.

The play has been produced jointly by Gandhi Theatre of Gujarat Vidyapith and Jashwant Thaker Memorial Foundation and is directed by Aditi Desai, daughter of well-known theater person Jashwant Thaker. It is being presented in Mumbai in collaboration with Manoj Shah's theatre group Ideas Unlimited.

The two hours long play with 23 actors on stage depicts the life of Kasturba as the unsung inspiration of Gandhi. The play depicts the ordinary couple's journey from their marriage to the making of the iconic figure of Mahatma Gandhi. Kasturba is played by Kalpana Gagdekar who is from the Chhara community.

A Hindi version of this play is in the process.

*Mumbai Theatre Guide takes no responsibility for change in schedule.