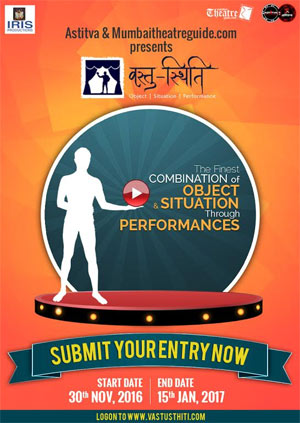 'Vastu Sthiti'
, an initiative by
Astitva
and Mumbai Theatre Guide is an
online theatre competition of solo
performances
focusing on
Object Theatre
. As the name suggests,
vastu
refers to object and
stithi
refers to the situation.
Not to be confused with puppet theatre or mask theatre, Object Theatre uses everyday objects to create a story with characters. Instead of props or puppets, Object Theatre deliberately uses regular objects, requiring the skill of the performer and the imagination of the audience for its success.
This solo act in which day to day objects become key characters can be performed in Marathi, Hindi, Hindustani, Urdu, Gujarati, English, or can be multi-lingual too
.
The contest is open to all and has no entry charge.
For further details of this competition, and to know how you can apply and participate visit
www.vastusthiti.com
The competition will take place from 30th November 2016 to 15th January 2017
.
For details – visit our website -
www.vastusthiti.com