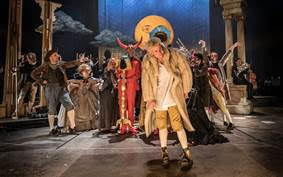 Wolfgang Amadeus Mozart, a rowdy young prodigy, arrives in Vienna, the music capital of the world, and he's determined to make a splash. Awestruck by his genius, court composer Antonio Salieri has the power to promote his talent or destroy his name. Seized by obsessive jealousy, he begins a war with Mozart, with music, and ultimately, with god.
Written by
Peter Shaffer
Directed by
Michael Longhurst
Cast:
Lucian Msamati, Adam Gillen & Karla Crome
Age: 15+
Dates:
20th & 21st February 2017
Time:
6 pm
Venue:
Godrej Dance Theatre, NCPA
Mumbai Theatre Guide takes no responsibility for change in schedule.