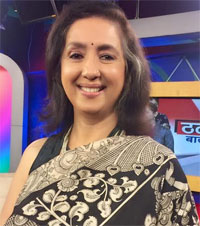 How do you develop a character? How do you convincingly portray diverse characters? How do you make the performance seem effortless? How do you make sure a role does not feel repetitive? Does the medium of performance influence the way you develop a character? What are the journeys you go on?
Junoon's 'Mumbai Local'
invites
Neena Kulkarni
- theatre, film and television actor.
Neena Kulkarni
has delivered stellar performances across different fields and languages with absolute ease. She treats each character as a unique individual - a learning that began from her days in theatre with
Satyadev Dubey
and
Vijaya Mehta
. So, no matter how many mothers she plays, each is a different person, a unique individual.
At this '
Mumbai Local'
, she will give us a glimpse into how she creates diverse characters through her own unique process of internalisation. She will also share with us how the particular medium she is performing in - theatre, television or film - affects her characterisation, and the choices she makes in developing the character.
Date:
Sunday, 12th March 2017
Time:
5 pm
Venue:
Dr Bhau Daji Lad Museum, 91 A, Rani Baug, Veer Mata Jijabai Bhosle Udyan, Dr Baba Saheb Ambedkar Marg, Byculla (E), Mumbai.
Click the link and save your seat.
To register for the events or for more information, log on to
www.junoontheatre.org
Free and open to all on a first-come-first basis
.