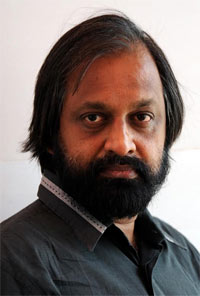 Why is the artistic history of the place one belongs to important? What does it tell us about ourselves? How does one go about documenting this history in a country where so much knowledge is retained in oral tales, myths and memory? And how do you ensure this archive is an act of public sharing?
Junoon's 'Mumbai Local'
invites
K. Ramachandran
- arts archivist, curator and founder of
Keli
. Mr. Ramachandran hails from the village of Peruvanam - a place with a rich artistic history of 1,435 years. The village boasts great artists of Melam, Nangiar Koothu, a strong musical folk tradition, contemporary theatre activists and artists, and award-winning film-makers, whose work range from the first neo-classical film made to the 2006 National Film Award winner, Priyanandan. The unfolding of this history is however not known generally to the current inhabitants of Peruvanam, nor to the world at large. With the belief that an organic history must be known as well as myth, Mr. Ramachandran has embarked on the ambitious project of documenting the arts history of his village, Peruvanam.
Mr. Ramachandran will share how he got fascinated by the idea of documenting the artistic history of his village, what he has already done to build public involvement and interest, and what his future plans are. You can expect to hear wonderful stories of community involvement strategies, artistic gathering and artistic evolution.
Date
: Saturday, 1st April 2017
Time:
5 pm
Venue:
MCubed Library, Princess Bldg, Ground Floor, D'Monte Park Road, Next to Bandra Gymkhana, Bandra (W)
Free and open to all on a first-come-first basis.You can pre-register by emailing mumbailocal@junoontheatre.orgAbout Mumbai Local:
Regular monthly programming of unique engagements with the arts and creativity for you in your neighbourhood. Where artists and scientists will come and share their
junoon
through engaging, delightful, interactive sessions.