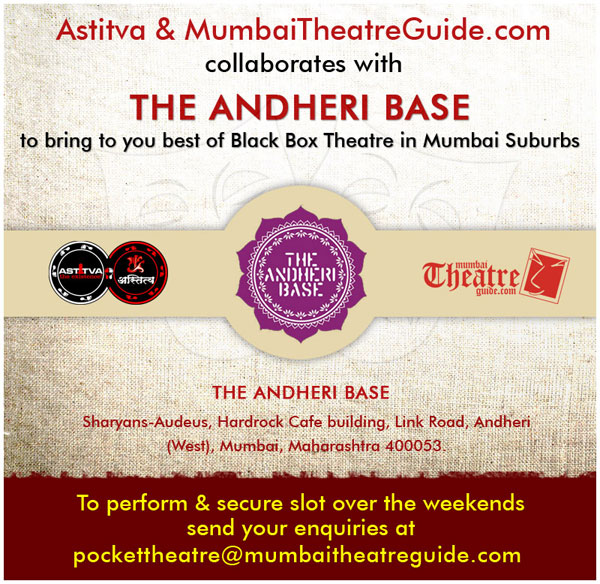 After C.LA.P. Centre, Kreating Charakters and Shakuntalam Studio, we have now collaborated with Whistling Woods Andheri Base, thus adding to the new and various performance spaces emerging in the Western suburbs of our city. We consider such tie-ups are important as it allows us to help the theatre groups find affordable venues and connect to new audiences. We are always looking at opportunities to make more direct and intimate connections with our theatre community, and space is one of the important aspects of the process.
Whistling Woods Andheri Base is the cousin of its first culture hub in Mumbai, Whistling Woods Bandra Base – an initiative of WhistlingWoods International. Whistling Woods Andheri Base is a home to create and incubate a community of artists, to channelise fresh ideas and innovation in music, dance, theatre, film, and new mixed media arts.
Whistling Woods Andheri Base is currently offering workshops in music performance, music production, filmmaking, acting, photography, dance, yoga, martial arts, culinary arts, urban gardening and much more. Its studio space has hardwood floors, dance-studio mirrors, a live performance stage, musical instruments, and video projection. The space can be booked for all sorts of events. The space is perfect for film screenings, poetry nights, improv comedy, open mic night, jam sessions, live music shows, and art shows. The 1000 sq ft studio is also available to rent for workshops, dance rehearsals, photo/video shoots, music rehearsals, and live sound recordings.
For more details write to:
dramas@mumbaitheatreguide.com
OR
pockettheatre@mumbaitheatreguide.com
Call: +91 22 40169979 / 80 / 81