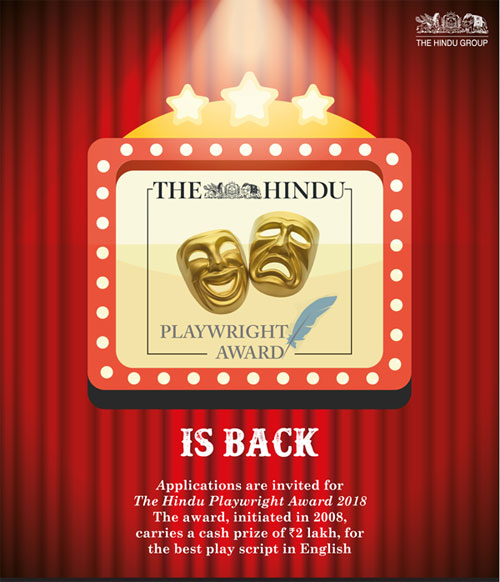 The
Hindu Playwright Award
, initiated in 2008, carries a cash prize of
Rs 2 lakh
, for the
best play script in English
.
Terms and Conditions:
- Applicants must be above 18 years of age.
- They must be Indian citizens or residing in India for the last five years.
- Employees of THG Publishing Private Ltd and their close relatives are not eligible to participate.
- Only full-length English plays (50 minutes performance time or more, on any subject of your choice) are accepted.
- The script should be an original, unpublished and unperformed work. Each applicant can send in only one submission.
- Please note that previous years' submissions will not be considered.
- The entry must reach (in print and via email) on or before May 31, 2018.
- The submission must not contain any quotations or copyrighted material without obtaining permissions. Translated works are not eligible.
- Adaptations of novels and texts are accepted.
How to Apply:
- Please attach a short curriculum vitae of the playwright as well (name, telephone/mobile number, email and postal address).
- Submissions must be printed using double space on single sides of A4 sheets and sent to: The Hindu Playwright Award 2018, Strategy Department, The Hindu, Kasturi Buildings, 859-860, Anna Salai, Chennai - 600 002, Tel: (044) 2857 6300 Ext: 217.
- Entries should also be emailed to playwrightaward@thehindu.co.in. If you have any queries, please email on the same.
- The shortlist will be released before July 7, 2018, and the winner will be announced during The Hindu Theatre Fest 2018.
- The decision of the judges is final.
*Mumbai Theatre Guide takes no responsibility for change in schedule.