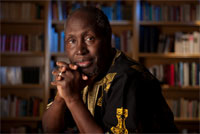 Ngũgĩ wa Thiong'o
was to deliver a public talk at the Bal Gandharva auditorium in Pune today as part of the
PEN International Congress.
The widely-read writer who is based in the US was denied a visa by the Consulate General of India in San Francisco.
The theme of this year's
PEN
International Congress
was
"Experiments With Truth: Freedom, Truth, and Diversity"
.
Ngũgĩ wa Thiong'o
known for his freedom of expression was not tolerated by his authoritarian Kenyan regime. He was adopted as an
Amnesty International Prisoner of Conscience
and has a dual
Professorship in Comparative Literature and Performance Studies at the University of California, Irvine.Ngũgĩ wa Thiong'o
had collaborated in the past with Indian academics and scholars
G. Saibaba
and
Varavara Rao
who have been arrested for their alleged Maoist links.
Here's a link to Supratim Pal's interview in Pune Mirror for further reference.*Mumbai Theatre Guide takes no responsibility for change in schedule.