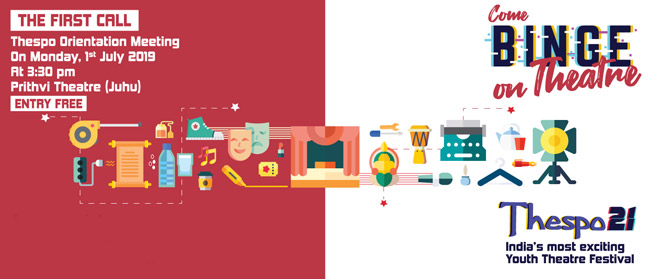 Thespo
, now in its 21st year, is excited to announce all the different ways in which the next generation of theatrewallahs can
Binge on Theatre
!
If you are under 25
and an aspiring actor, director, writer, production designer or just curious about the theatre - come be a part of India's exciting youth theatre movement.
To learn all about the line up of plays, workshops and opportunities for the year to come, join Thespo at
THE FIRST CALL on Monday, 1st July 2019 at Prithvi Theatre at 3:30 pm
.
Entry is free and open to all
.
What exactly is The First Call?
It is an afternoon full of music, dance and a whole lot of drama! Be there as plans are unveiled for all the upcoming events at
Thespo 21
. Find out how you can participate in the plays, platform performances, domestic and international collaborations, workshops as well as join the crew that puts it all together. Meet and interact with other young theatre enthusiasts and aspiring artists as well as professionals from the field who are there to guide and mentor you. There is something for everyone!
Over the last two decades,
Thespo
has showcased the best of youth theatre from across the country in the form of full length plays, platform performances, play readings, devised performances and much more. Major supporters of theatre and practitioners from around the globe have come together with emerging artists in India to create diverse and impactful performances.
To ensure that the training is on a professional level, a wide range of regular workshops are organised covering various aspects of theatre. Thespo alumni include actors, directors, producers like
Akarsh Khurana, Vicky Kaushal, Mithila Palkar, Ali Fazal, Nipun Dharmadikari, Amey Wagh
and many more, who have gone on to do wonderful things in the performing arts!
So, do not miss out on the perfect opportunity to have a theatre adventure!
*Mumbai Theatre Guide takes no responsibility for change in schedule.