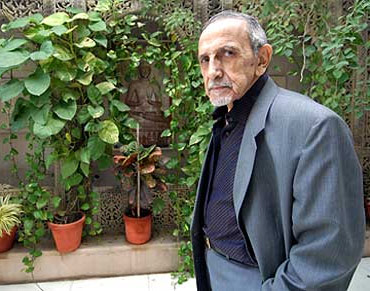 Death Of A Legend
Great theatre director, educator, art connoisseur, Ebrahim Alkazi passed away in Delhi at the age of 94.
After a successful theatre career in Mumbai, he moved to Delhi to head the National School of Drama and was its longest-serving Director (1962-77). He established norms of theatre training in India, and groomed generations of actors and directors, including Naseeruddin Shah, Om Puri, Manohar Singh, Anupam Kher, Nadira Zaheer Babbar, Irrfan Khan, Rohini Hattangadi, Neena Gupta, Mita Vasisht and many others.
Born in Pune in October 1925, Alkazi directed more than 50 plays, and was known for his grand and visually stunning productions.
Nawazuddin Siddiqui, NSD alumnus tweeted, "The true architect of the Modern Indian Theatre. The Doyen who possessed the extreme knowledge in all the aspects of ART. The magician who nurtured many greats of theatre. May your brightest spark from the heaven keeps us enlightening."
His children Amal Allana and Feisal Alkazi followed his footsteps into the world of theatre and art.