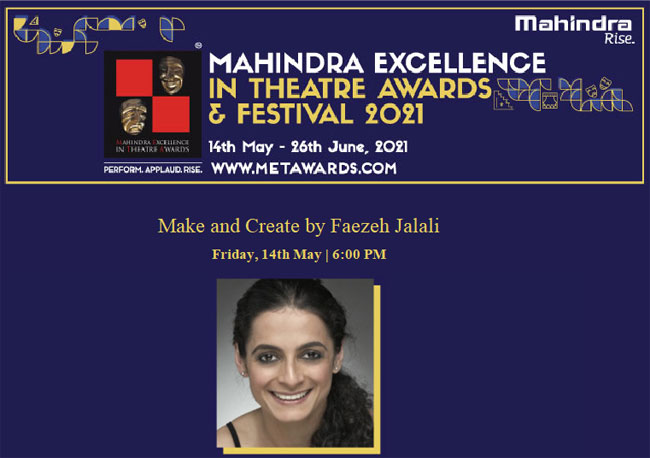 To keep interest in theatre alive during the pandemic, the Teamworks that organises the Mahindra Excellence in Theatre Awards (META) have Masterclasses running from mid-May to June, that can be accessed online.
To begin with there's Make And Create by Faezeh Jalali, which is, according to the description provided, "A performance creation workshop for ages 10-12. Write your own script- a scary scene, a serious song, a peppy poem or a merry monologue and then... proudly perform! We will teach you how! Write your own script - a satirical scene, dramatic dialogues, comic characters, a poem, song and a monologue - which you will proudly perform!"
Quasar Thakore Padamsee follows with Breaking The Fourth Wall, which is "used as a tool meant to trigger laughs in comedic plays, audience interaction can also be used as a plot device to push forward a social message by implicating the audience as witnesses. In this workshop, the participants will work on ways to forge connections with the audience with a focus on improvisation skills required to create an immersive theatre-watching experience."
Lillete Dubey will teach the The Art of Directing and Saurabh Shukla, will take up a masterclass on Bringing The Script to Life.
There is something of interest for all ages. For more details and schedules, check www.metawards.com
*Mumbai Theatre Guide takes no responsibility for change in schedule.