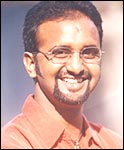 Pramod Pathak was born and raised in Kanpur, U.P. His involvement with theatre was accidental, when, after watching a performance, he decided to become an actor. His significant performance was the character of the narrator in "Marhoom Ki Yaad Mein" by Pitrus Bukhari.
Pramod has now been living and working in Mumbai for the last 10 years, and has acted in some 20-odd plays. He has worked with directors like Sunil Shanbag, Ramu Ramnathan, Satya Dev Dubey, and Joy Fernandes. At present, he is doing a play, "Cotton 56, Polyester 84," written by Ramu Ramnathan and directed by Sunil Shanbag. Pramod is just back from Australia and New Zealand after touring for three months with the show "The Merchants of Bollywood," directed by Toby Gough and produced by an Australia-based company.
Pramod enjoys working with children, and he has been working with underprivileged kids living in various shelters, using theatre as process for rehabilitation. He conducts workshops for children in need of care and protection, and children in conflict with the law in a state-run observation home in Bombay. Pramod has also been conducting workshops for Prithvi Theatre during summers. Pramod also directs theatre in education programs, using theatre as a means of engaging students in academic subjects, especially languages.
Pramod, along with his two partners, Asif Basra and Suondher Krishnan, conducts theatre workshops for corporates with that encourage team-building, personality development, and confidence-building.