| | |
| --- | --- |
| Director : | Vinay Apte & Bharat Dabholkar |
| Cast : | Vinay Apte,Suhas Joshi,Shilpa Tulaskar |

Just Another Rape
---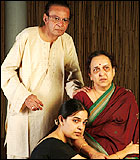 This play is an adaptation of Jaywant Dalvi's well-known Marathi play, PURUSH which was made further famous by a production that had actor Nana Patekar play the corrupt and venal politician.

As is evident from the title, the play is about an atrocity that gets committed on a woman who seeks to question a powerful male figure of her society. The woman in question is called Ambika and is a schoolteacher and social worker with strong ideals. She suffers a violent rape at the hands of her local politician, Gulabrao Patil.

Thus begins a schorching experience for Ambika and her family. Ambika's father, a national award-winning educationist gets confronted with the harsh ugly realities of his present society. In a humiliatingly male-opinionated court-room battle, Ambika loses her case against Gulabrao.

Ambika's mother, unable to cope with the mental pressure commits suicide. Her Dalit-leader boyfriend, plagued by the social taboo attached to a raped woman starts avoiding her. Her father is now a defeated, broken soul.

At this juncture the victorious Gulabrao, bloated with the arrogance of his political power visits Ambika and her father. With complete lack of guilt, he shamelessly asks them to assist him in his re-election campaign. The play now dextrously explores the paradoxical equation between the rapist and his victim and culminates in Ambika's lone fight for justice and her final ironic victory.



---
| | |
| --- | --- |
| | Just Another Rape Play Schedule(s) |
No upcoming shows.