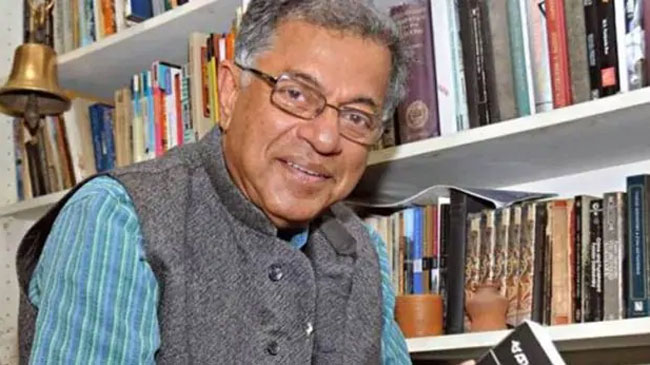 When I heard of Girish Karnad's death, I remembered our photograph together. I hunted it out and put it up on FaceBook. I was proud to have had a picture with the man whose plays I admire. Friends appreciated the photo. But there was a comment:

"Last minute recruit of the Despicable Lutyens Gang . . . Anything to be in the limelight . . . Some people just can't fade in grace. . ."

It was a derogatory comment but anyhow I requested for an explanation, which followed:

"His own kids, he ensured they studied abroad, while encouraging poor people's children to become Naxals in forest, get shot by Police/CRPF bullets. Why didn't Girish Karnad who openly advocated Naxalism ensure his children DID NOT JOIN the movement? . . . Poor children have to die in forest for upholding this man's cheap ideology! . . . his own children have to study abroad, enjoy life well abroad! . . . not to return to India, while he cursed local poor children to Naxal ideology. Poor children are to be used like tissue paper for these kind of ideologues and rogues? Wah! What a great ideology! Great Naxalite ideas! Jnana Peetha award Deserving Idea?"

This was venom-spewing but I had my answer.

The BJP hated him, and the RSS perhaps hated him even more. Modi even praised him as an "actor", not as a playwright.

Yet Karnad's essence lays in his plays.

Karnad began writing his first play YAYATI before he went to Oxford to study Philosophy as a Rhodes scholar in Mathematics. Soon, he was part of the "Gang of Four" with Badal Sircar, Vijay Tendulkar and Mohan Rakesh.

For four decades Karnad composed plays using history and mythology to tackle contemporary issues. Karnad's major plays originally written in Kannada are: YAYATI (1961), TUGHLAQ (1964), HAYAVADANA (1972), NAGAMANDALA (1988), TALEDANDA (1990), THE DREAMS OF TIPU SULTAN (2006), A HEAP OF BROKEN IMAGES (2006), FAMILY ALBUM (2006), FLOWERS (2012). BAKED BEANS ON TOAST was written in English in 2014.

His plays have been translated into several languages and have been directed by top directors like Ebrahim Alkazi, B.V. Karanth, Alyque Padamsee, Prasanna, Satyadev Dubey, Vijaya Mehta and Amal Allana. Each director found a different interpretation and a different local style for each of the plays. Vijaya Mehta has written extensively in her autobiography Zimma about HAVYADANA and NAGAMANDALA done in Marathi and in German.

The Mahabharata had deeply influenced Karnad. YAYATI, published in 1961, when Karnad was 23 years old, is based on the story of King Yayati who was cursed into premature old age. Yayati's son Pururava agrees to sacrifice his youth for him. So it is a story of the impotent Pururava and his unsatisfied wife, the tribal girl Sharmishtha, and so forth. The play is at once frail and powerful in its characterisation and dialogues.

His next play was TUGHLAQ (1964), about the medieval Sultan of Delhi, Muhammad bin Tughluq, a story which begins with ambitious idealism and ends in disillusionment. It tells the story of the man who tastes blood and gets addicted to it. This play is existentialist, influenced by Camus' CALIGULA. This was done in English by Ebrahim Alkazi and in Mumbai by Alyque Padamsee with Kabir Bedi as an imposing and impressive Tuglaq.

HAYAVADANA (1971) was based on a theme drawn from The Transposed Heads by Thomas Mann. The story is originally found in the 11th-century Sanskrit text Kathasaritsagara and in Vetala Panchavimshati. For the play, Karnad employed the folk theatre form of the Yakshagana.

Satyadev Dubey's Mumbai version had Amol Palekar and Amrish Puri in the roles of Devadatta and Kapila.

NAGAMANDALA (1988) was based on a folk tale about a woman not satisfied with her husband and in love with a snake, a manifestation of the phallic icon.

Karnad was conferred the Jnanapith Award in 1998. He said it again and again that Tendulkar deserved it more. Tendulkar never got the award later.

Karnad had been a severe critic of Hindutva. He had condemned the demolition of the Babri Masjid in 1992 and had lent his voice to the Idgah Maidan controversy in Hubli.

Karnad's activisim manifested itself in support of Professor Kalburgi, Gauri Lankesh in Karnataka and the Kabir Kala Manch in Maharastra. He was a defender of artistic freedom and democratic values.

Karnad wrote almost all his major plays in Kannada and he himself translated all of them into English. He was fluent in five languages: Konkani, Kannada, Marathi, Hindi and English. Yet purists have thought Karnad to be anglisiced, like Khuswant Singh and Manohar Malgonkar, to name only two.

Karnad's plays have not only been inherently concerned with power and politics but have also recognised the feminine principle that is creative and procreative. Like Tendulkar, but differently, Karnad too fearlessly deals with violence and sex. He draws on history, mythology, folklore, but his themes are contemporary and modern. He uses allegory, fantasy, and legend to create a theatre akin to Shakespeare and Brecht. He is an excellent storyteller but he goes beyond the story to bring out the raw passions of his characters.

Karnad was briefly the Director at the Film and Television Institute of India (1974–1975) and he was also Chairman, Sangeet Natak Akademi (1988–93). He served as the Director of the Nehru Centre and as Minister of Culture, in the Indian High Commission, London (2000–2003).

Karnad also acted and directed. But it is his legacy as one of India's foremost playwrights that will always survive. He had a deep sense of history and culture which he finely wove together in the structure of his plays, characters and in the dialogue. He understood structure very well.

We have lost a refined and an erudite man, and the loss is not limited to theatre alone.