(Ramu Ramanathan delivered this speech on occasion of the Fellowship Award Function by the Sahitya Rangbhoomi Pratisthan in Pune on 24th February 2019 where he was invited as chief guest).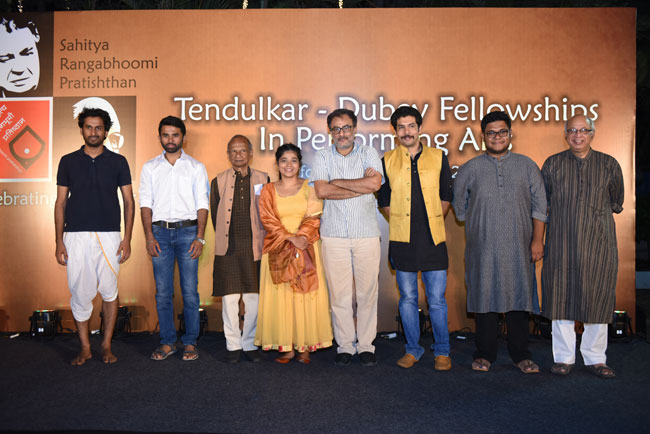 From Left to Right: Abhinav Grover (Fellowship recipient); Suyog Deshpande (Fellowship recipient); Ashok Kulkarni (Managing Trustee, Sahitya Rangabhoomi Pratishthan); Sayalee Phatak (Fellowship recipient); Ramu Ramanathan (Chief guest and playwright); Nachiket Devasthali (Fellowship recipient); Neel Sengupta (Fellowship recipient); Satish Alekar (Playwright)


Congratulations to Nachiket Devasthali, Neel Sengupta, Abhinav Grover, Suyog Deshpande and Sayalee Phatak for being selected for the Tendulkar-Dubey Fellowship in the Performing Arts in 2019.

Thank you Ashok Kulkarni (Managing Trustee, Sahitya Rangabhoomi Pratishthan), and Satish Alekar for inviting me to speak. I have penned my thoughts; and so, I seek your permission to read the words of these pages.

Also, I have flashbacked into time, and I asked myself, what gyaan would old me (in 2019) have for a young me (in 1989)?

So, Dear Five Fellowshippers: let me start at the beginning.

One of the all time great playwrights according to me is Sophocles.

And Oedipus Rex by Sophocles, remains the best murder mystery of all time. Because in the end, the detective discovers that he Oedipus - The King - is the murderer.

Aristotle in Poetics selected Oedipus as the most exemplary of tragedies.

And yet, the play was a runner up in a drama competition.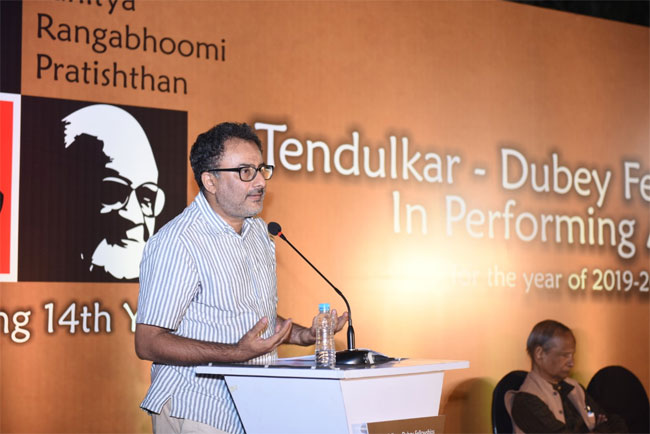 Ramu Ramnathan speaking at the Fellowship function


There are two morals to this story:

a). Never trust drama competitions

b). It's an extraordinary piece of writing and I think all the five fellowshippers must read the play tonight.

. While reading the play, they must keep in mind one thing, probably the only thing, I learnt from Dubey Saab.

How does the play, smell, yaar?

Believe me, every play has a smell.

I learnt that very early in my life. That the olfactory nerves in my nostrils are pretty good.

All of us are familiar with the smell of the lobby of a five star hotel or the smell of an airplane ready to take off or the smell of making love to someone who is not there the next morning.

Plays are similar. They have a scent or an odour or a lingering something that stays with you.

This scent or odour is not similar to the smell or odour of an auditorium. Bal Gandharva auditorium has one; so does Su-darshan. Likewise Prithvi and Kamani.

But this is different.

You have to develop it. Please ensure the olfactory nerves in both your nostrils classify each and every play you read or see or rehearse.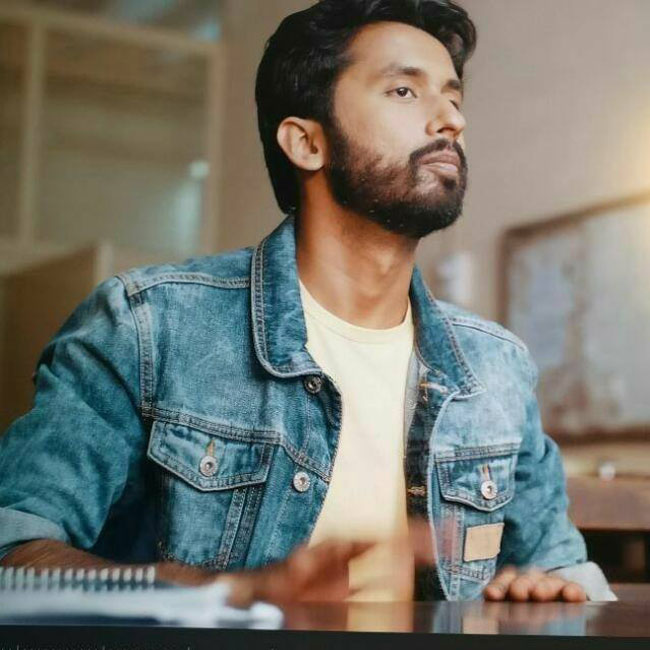 Fellowship recipient Abhinav Grover


Does it pass the ABCDEF test?

What is the ABCDEF test!

A for Alekar.

B for Beckett?

C for Chekov and Chandralekha?

D for Dickens and Dosteovsky (neither of whom are playwrights, but I learnt my best lessons about the theatre from them)

E for Euripedes and Elkunchwar (who was very brave in Nagpur, two days ago, at Marathi Natya Parishad Samelan).

F for Fosse. Jon Fosse.

G for Girish Karnad and Gajvee (who was very brave in Nagpur, two days ago, at Marathi Natya Parishad Samelan).

And so on.

. Remember - even if playwrights and theatrewallahs do NOT talk to each other, plays talk to each other.

That's why theatre has dialogue.

These are dialogues that the million and one plays have never-ever been performed on a stage. But they are the backbone of our civilisation.

So, did Dubey Saab say this to me?

Nope.

But I inferred.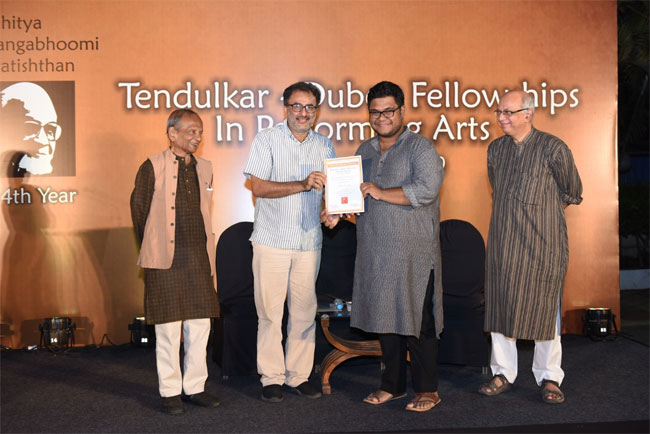 Fellowship recipient Neel Sengupta


Like every time I see the Uruguayan football team kick the opponent on their shins or bite the opponent's ear lobe off, I think of Carlos Onetti, one of the greatest novelists I know, and I forgive the Uruguayan football players for their thuggery. I infer if this nation gave birth to Onetti it did something Uruguayan noses can be proud of!

Like everytime someone says they have NOT read or CANNOT read Gabriel Marquez's Chronicle of a Death Foretold, (over and above, looking very hurt) I request them to watch Francisco Rossi's film which is based on the novel. When someone says, the movie was even more incomprehensible than the book, I have one of those days which I call: Today I lost all faith in humankind, for the Nth time.

Why is Rossi important? Of course he has directed innumerable important films in the 60s and 70s which were the heyday of Italian cinema. Today, in the day and age of gaming and Netflix, Rossi may be considered "dated". But the lesson I inferred from him was: his film scripts can be the script of life. Imagine: a day in your mother's life or a day in your maid's life. Now imagine this day looking like a Rossi film script.

This is called inferring. And for this you need a nose.

At this point of time, I will request all of you, and fellowshippers to please touch the tip of your nose.

What does your nose say? Is it nosey or it is not nosey?

Lets flashback many centuries, now.

Mr Abhinavagupta was certainly very very nosey.

He said three things about the Natyashastra, thousands of years ago. He said: you need to master three elements if you need a nose like mine.

1. Vastu, the plot

2. Neta, the characterisation

3. Rasa, the impact of the play in performance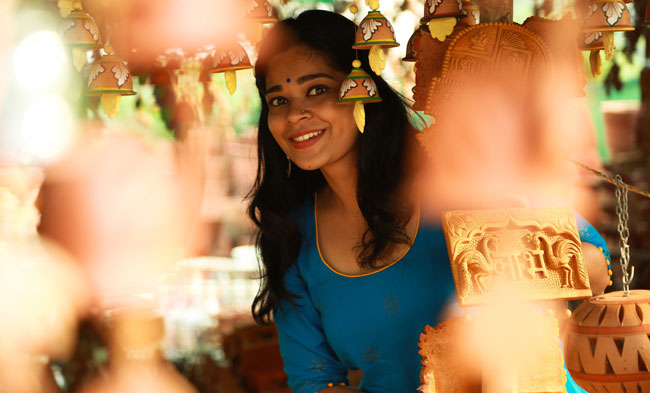 Fellowship recipient Sayalee Phatak


Then he said something as an aside ... And my advise to all Fellowshippers is --- Always pay heed to the aside ... Asides are the important things in our lives, onstage and offstage ... Anyway ... Mr Abhinavagupta said 1, 2, 3 are not important.

He said: What is truly important is: narrative (Itivritta) which has to be revealed slowly and has to sustain the interest of the praja.

Because in the ultimate analysis, Itivritta is what you infer.

And it is this Ittivritta that has triggered my imagination. And the imagination of this imagi-Nation.

We theatrewallahs need to use our imaginations a bit more - because they who are watching us, are always tinkering with the narrative. Which is why we need newer avataars of imaginations before they conjure newer ten-headed forms of the narrative.

Remember Mr Abhinavagupta's mantra: Bros and Sisters --- Your inferring needs to be better than their inferring.

Question: Why so?

Answer: We live in a day and age of ideological putrification and demonisation of the imagination - where one and only one dominant thought has swallowed all the other 1.4 billion thoughts.

Theatrewallahs - be it directors, playwrights, actors - and that new beast called creators and theatremakers - need new tactics.

Unfortunately Amazon and Flipkart does not deliver tactics.

There are no Union Budget announcements for tactics.

There is no TV show or WhatsApp group for tactics.

And so, we need to seek our own tactics.

Tactics could be borrowed from Krishen Khanna / VS Gaitonde / Francis N Souza / Gaganendranath Tagore at the NGMA.

Or a tactic could be borrowed from Manmohan Desai. One reason I say Manmohan Desai is: his cinema, (no matter how critical we are of his populism), for example, Amar Akbar Anthony has been consumed by a lot more people than the plays we stage. How do we resolve this conundrum.

As the legendary Narayan Surve said, when shall we write plays whose dialogues will be mouthed by rickshaw drivers, road diggers, koli women selling fresh fish, nurses in hospitals, doodhwallahs and isstriwallahs and paanwallahs and the newspaper vendors who distribute the newspaper to each of our homes but do NOT read them.

All of them consume cinema. But do they consume plays? If no, why no!

I shared this with a friend. She said, why is this important?

Perhaps it is not.

This is the time to remember a man with a very fine nose: Gabriel Garcia Marquez. I nominate him for one of the finest pair of nostrils in the 20th century. Marquez and M K Gandhi and Lenin and Agarkar (although technically Agarkar is 19th century) and Kosambi and Bob Dylan.

In fact Nobel laureate Bob Dylan had such a fine nose, he decided to sing through his nose.

ASO!

When Gabriel Garcia Marquez (GGM) writes a book like Hundred Years of Solitude, he is saying many things. One, he is telling us the story of Macondo village. But what my nose inferred is: an entire nation and its people and their voice plus their noses have been forgotten for hundred years.

And somewhere mankind cannot afford to do that again.

Yet. There are many more voices that need to be heard.

Which is why we need many more noses that should be permitted to infer.

The other day I had to explain "what is an Indian village" to young children in a school. These were privileged children who have never seen a village. I started to do so.

After a few minutes I realised I was talking about Maryganj in Phanishwar Nath Renu's Maila Aanchal; Gangoli in Rahi Masoom Raza's Aadha Gaon; Shivpalganj in Shreelal Shukla's Raga Durbari and Manohar Shyam Joshi's Kasap. These four milestone books in Hindi along with Godaan had shaped my nose's understanding of a village.

Life was imitating art!

Dear Fellowshippers and Theatrewallahs, ask yourself to think about that one nose whose inference impresses you. It can be the nose of Sophocles or the noses of Renu / Raza / Shukla / Joshi.

Or it can be the noses that blow their phlegm and snot on the streets of Shaniwar Peth or Koregaon Park. The local colloquialisms, the gaalies, the sound effects, the sentences without verbs, the hotchpotch of two languages clashing into each other, or The Marathi of the Peshwas clashing with the Marathi of the Kunbis. The Marathi of Khandesh mingling with the Marathi of Konkan.

Herein: I request the five fellowshippers to touch the tip of their noses yet again.

Ask your nose these questions!

Can you narrate your story on stage with someone else's words?

Will you be able to watch the drama unfold from the wings?

In 2050 - if this planet is still going round and round the sun - will you be able to tolerate your creation?

These are the questions all of us need to ask our noses.

It is called the Naak Mein Dum Test.

But don't fret.

Creating is simple. Don't complicate it.

I know of the 18th century poet and playwright Schiller who kept a bunch of rotting apples in his drawer. He said they sparked creativity.

Schiller would stick his feet into tubs of cold water.

Contrariwise: Tendulkar Saab wrote anywhere and everywhere. Noise or voice, did not deter him. When in doubt he would not be intimidated by his nose. Instead he would start digging his nose.

Marquez aka GGM kept yellow roses in his house, on his table. Always yellow roses. He felt nothing awful would happen to him if those flowers were around. He had to be surrounded by yellow roses and he had to be surrounded by women.

There were writers who listened to music while writing and then these writers wrote sentences like Beethoven wrote musical scores or Chick Correa improvised his jazz notations.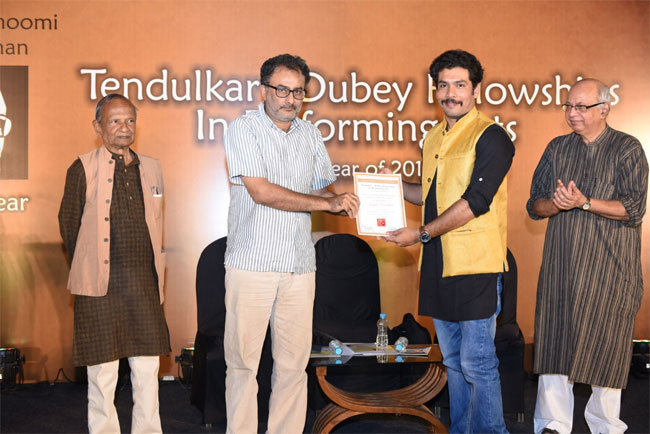 Fellowship recipient Nachiket Devasthali


Some created while sitting, others imitated the master painters - and created while standing.

And so, Ernest Hemingway, Charles Dickens, Virgina Woolf and Lewis Carroll wrote their best works standing up.

Tendulkar Saab wrote vertically, horizontally, and semi vertically and semi horizontally.

My grandfather (a Sanskrit professor from Lahore) introduced me to three great writers: Gurdial Singh, Kedarnath Singh and Faiz. Papaji (my grandfather) told me Khushwant Singh started each of his new books with the most expensive pen in the market. Also, he wrote only on yellow, ruled pads. These pads were imported from one very fancy shop in Paris.

Speaking of poshness and taste.

What is taste?

One, as aforementioned, please have a good pedigree nose.

Two, do not dig the good pedigree nose when you are receiving the Sangeet Natak Akademi if you ever get it by fluke. On that day, please ensure your nose behaves in front of the president of this land.

Three, ask your nose questions. For example, if your nose claims to be a proud Marathi nose, ask your nose, Naak Bhau, have you heard of the six theorists in Marathi literature? Ra Bha Patankar / Sudhir Rasal / Ra Ga Jadhav / Da Ga Godse / Ma Su Patil and the Dadaist Ashok Shahane?

If your nose is dangling in the air, then change the subject.

Ask the following questions.

Why does Kedarnath Singh reciting his poems have only 234 views on YouTube.

Why does Tom Stoppard delivering a lecture on good theatre have 4321 views on YouTube?

And why do three songs choreographed by Prabhu Deva for Hrithik Roshan, Dhanush and Arjuna have more than one billion views, each?

Is this the nature of the beast?

Will theatre always remain - a Minority Art.

If your nose is unable to answer these questions then Aapki Naak Katt Gayi, Samajh Lo.

Unless, we ensure through Feng Shui and vastu that bad taste and bad art has bad karma. For starts imagine what happens if middle class people stop purchasing plastic flowers, those wooden birds on living room walls, those hideous curtains, those Nilkamal chairs, those scene-scenerywallah bedsheets.

But is this the only way to alter people's bad taste? Ask your Left Nostril this question.

Question: Why Left Nostril?

Answer: According to the Latest Nostril and Nose Survey Index commissioned by Nikoloi Gogol, the Left Nostril is much more amenable to radical ideas than the Right Nostril.

So scare the perpetrators of bad taste like they scare you about how a copy of the Mahabharata inside your home, will ensure the battle of Kurukshetra in your living room. Similarly we (theatrewallahs) should spread rumours that if you watch a bad TV soap - your mobile phone will be auto-locked for 13 days; or if you pick up a floral dress in seven gaudy colours then your personal banker will run away with your fixed deposit.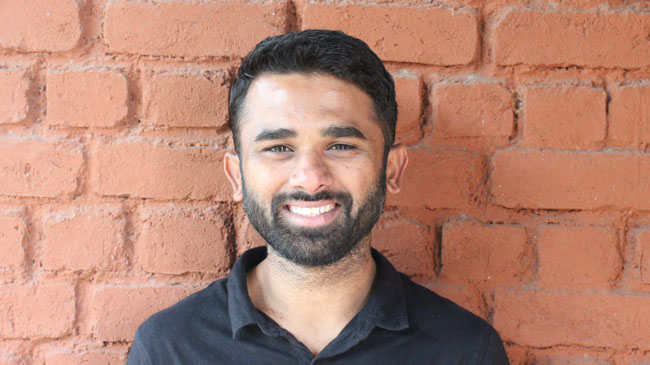 Fellowship recipient Suyog Deshpande


Instead we must convince them to own a copy of one great play by each of the great playwrights.

Start with A for Aristophanes.

Brekekekekex koax koax - in my view, this is the best piece of dialogue writing, ever.

This is from Aristophanes in his play - The Frogs (penned in 405 BC).

Speaking of great playwrights, it's bizarre. How we reduce every great writer to one play.

And so

Bhartendu Harishchandra is known for Andher Nagri

Bhuvneshwar for Tambe Ke Keede

Swadesh Deepak for Court Martial

Dharamvir Bharti for Andha Yug

The point is, don't reduce the greats to one work.

The point also is - do not reduce your creation to one thing.

More importantly, don't reduce your own work to one theme, and one grand idea.

Yes, you have one nose.

But that apparatus breathes a million times in your lifetime.

And each breath of air is a life saver.

. We live in an age where everyone else's nose will want your nose to create a town which is engulfed with the smell of chikoos, or a town to which you can only walk into with your nose covered because of the stench of hydrogen sulphide from the factories.

In the good old days, the high and mighty noses wanted theatrewallahs to create socialist noses, or communist noses, or mythological noses, or folklorish noses. Basically the idea of a committed nose and a nose that stood for social protest. And you have had legendary theatrewallahs who have been accused that they have noses which practice politics or nose activists who felt the need to dictate to theatrewallahs on what is right or wrong or to be dialectically proper, Left or Right. And if your nose doesn't know how to create works in a particular way your nose was a reactionary nose.

As you can imagine there is a massive Nose Industry which drives our planet.

So dear five fellowshippers --- what is the duty of your nose? What about your nose's revolutionary duty? What is your nose's creative duty?

When Tendulkar Saab was asked this question: first and foremost, he scratched his nose. Then he said, I think the question is interesting ... But the basic idea is to create theatre that is alive and kicking and not create plays in a premeditated way.

I see some of you are getting restless.

Your noses are twitching.

Some of your noses want to sneeze.

Some of your noses want to know if something is going on under your nose.

So let me be brief from hereon, and try to wrap up with three final things.

Point 1.

Some of you know me as a person who researches. Is that good or bad? It is good. Everyone must research. The problem arises when the research shows. The ideal situation is for your work to be like a magic act. Like an exemplary magician, you must reveal nothing. Like a magician you must do the trick but the audience must never know how the trick is done. Like a magician you will pour a lot of energy into research, the technique, the science and R&D and riyaz and rehearsals. But ultimately it's all for that AHA moment. There is NO escaping research.

Let me explain. I recall looking at a B/W photograph online. It was a library. When I looked at it I knew it was writer's library or a professional journalist's library. Because when I zoomed into the photograph I saw ten to twenty books about vast and myriad topics. There was: the history of Aztec bones, one book on the assassinated leaders of the world, one book on how to crack jokes with a straight face, eleven tips to make your own cigarette, the map of the moon's surface, etc.

I was right. It was a photograph of Ernest Hemingway's library in Cuba. He was researching for a short story.

. Point 2.

I recall a fun banter with Namdeo Dhasal. He said the best place for a writer like me to live in is: a brothel.

Why, I asked him?

He said: Millions of great conversations, all kind of characters, every night there's a party. Plus all kinds of people: businessmen, politicians from Mantralaya, Kamathipura construction workers, taxiwallahs, plus you have a very good relationship with the police because they're present, 24/7.

When I looked at him, a bit sceptical, Dhasal added, a brothel offers the best hours for a writer to work, the morning time. Since morning in a hotels are always the most the peaceful and tranquil; and there is that edgy smell of sex, booze and gaanja in the atmosphere.

Of course Dhasal was mocking the gentrified middle class writers. But the larger point is, he wanted to utter, stay connected with life.

Let me explain.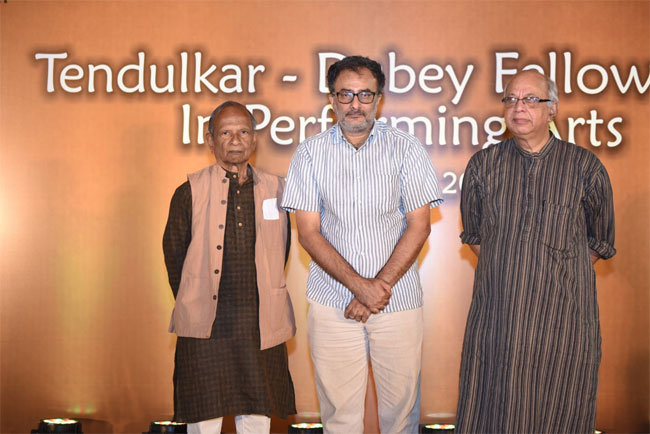 Ramu Ramnathan (centre) with Ashok Kulkarni (left) and Satish Alekar (right)


A decade or so, I was on a tour through UP. It was a project for a publishing newspaper major. It meant travelling from Mathura to Gorakhpur. On an average one town per day. One time I met a Bahubali. At that time he reigned supreme. Later they locked him up. Then he contested elections And was elected the MP with a thumping majority. His ops: Hundred homicidal murders plus a crime network of opium racket and borewell scams and money laundering.

When he formed a political party he was under surveillance. One of Bahubali's strategies to sort of distract the intelligence agents was faking conversations on telephone lines. He had a battalion of young boys who worked for him. On cue, these illiterate innocuous boys would enter an STD booth and make a telephone call to one of the numbers that were under surveillance. And then these boys would conjure the most surreal conversations and absurd conversations on the phone. The idea was the CBI or CID or whosoever was monitoring these conversations would be totally confused.

Please understand. At any point of time there were hundreds of plays being enacted on these malfunctioning telephone lines from UP to Delhi. Now think about the predicament of the trained professionals in their suit-and-boot who were listening to these conversations.

Please nb: this is not a UP phenomenon, only.

Let me introduce you to another gent with a mighty fine nose. He does not live in Awadh or Bundelkhand. He lives in San Francisco. His name is David Streitfield. He is a scribe for The New York Times. He was part of a team that bagged the 2013 Pulitzer Prize for Explanatory Reporting on how the economy is being reshaped by Apple with their factory which manufactures fake reviews.

More power to Mr Streitfield's nose.

But the question my nose asks me, in the era of fake news is, if what Mr Streitfield says is true then, what is real, and what is unreal? What is not fake, and what is a lie? What is life, and what is play?

. Point 3.

Since I have been mentioning Marquez aka GGM. Let me conclude with a short story called Sleeping Beauty and the Airplane. Like most of GGM, the story is about many things. But the kathavasthu is: there's a passenger who notices a Sleeping Beauty who is a very very beautiful woman. The passenger sighs, and he asks the attendant at the ticket counter, if she believes in love at first sight. The clerk responds, is there any other kind of love. Because the other kinds are so impossible to handle.

I deployed this line in a play of mine called 3 Sakina Manzil. A play which got a pat on the back from both Tendulkar Saab and Dubey Saab, on the same day.

Those are the days you live for. If you are a theatrewallah. A pat on the back.

That's the time I realised it's only one day, out of the 11680 days of doing theatre.

A percentage of 0.00856.

That's it.

Five Fellowshippers: That's why we theatrewallahs exist, I guess. For a pat on the back from one whose nose we look up to.

So, Five Fellowshippers besides keeping your noses clean and doing hot water fomentation with eucalyptus oil, please do ensure that they who watch your work or see your work fall in love with it, in a few seconds.

Question: What is art?

Answer: 0.00856

That's art.

To make someone fall in love at first sight.

Don't think about commas and semi colons and full stops and adverbs.

Also don't think about dates and theatre festivals and box office and petty politics and reviews and previews.

Think about your face - and more importantly, your nose on that face - printed on a postal stamp.

Don't think about how millions of people will be licking the postal stamp, and how the postal stamp will be lying around in nooks and corners with cockroaches and centipedes trampling your nose.

Just think that your stamp will ensure a 21st century Romeo and Laila or Juliet and Majnu in Muzzafarpur or Una will pen the most beautiful love letters to each other. And then they will put your stamp on the envelope to cement their love.

That's the moment your nose will twinkle like a star in the sky.

I think that's it. These are some points I wanted to share with you. I hope they are useful.

All the best to all of you - and indeed all of us.

Theatre zindabad.

Long live your nose.

Long live our nose.

Ramu Ramanathan is a critically acclaimed playwright with plays such as MAHADEVBHAI (1892-1942); 3 SAKINA MANZIL; COTTON 56 POLYSTER 84 and BOMBAY JAZZ to his credit. He has written extensively on theatre and has mentored several young theatre people. Orient Blackswan has published a collection of his plays. He is also the editor of PrintWeek India, a niche industry magazine for printing in India.

This is the 14th year of the Fellowship Programme by the Sahitya Rangbhoomi Pratisthan. It has given Fellowships to 62 theatre professionals to date. Each of the Fellowship recipients has received Rs. 1,00,000 unconditionally to develop their area of work.