| | |
| --- | --- |
| Writer : | Nimesh Shah |
| Director : | Dhamesh Vyas |
| Cast : | Dhamesh Vyas, Surabhi Jhaveri Vyas Dilip Darbar, Alpane Buch, Amita Rajda, Ravi Parmar, Jay Kapadia & Krian Bhatt |

PACHI KAHETA NAHI KE KAHYU NAHOTU
---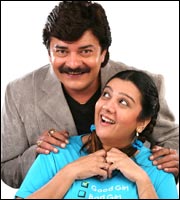 Surabhi Jhaveri Vyas plays Ishita, a slow learner in this Gujarati social comedy and the play largely revolves around her. Ishita is 30 years old but owing to her neurological disorder, her actions resemble that of a small child. Her condition reflects that of a 'special' child who is mentally challenged. Her family deeply cares for her but trouble starts once her sister-in-law (Alpana Buch) gets pregnant.

The sister-in-law begins to fear for her unborn child whom she feels may be hurt by Ishita's mindless actions. Meanwhile a family friend from the US (Dharmesh Vyas) tries his best to help Ishita. Ishita wins back her sister-in-law's favour when she donates her blood to her in a time of crisis but eventually the sister-in-law is brainwashed by her uncle. She then refuses to continue living in the same house.

Ishita pleads with her and even agrees to leave the house if it would mean making her sister-in-law happy. Finally the sister-in-law is overcome with grief. She seeks Ishita's forgiveness and Ishita herself finds love in the man who stands by her.

---
| | |
| --- | --- |
| | PACHI KAHETA NAHI KE KAHYU NAHOTU Play Schedule(s) |
No upcoming shows.