Schedule
No upcoming shows.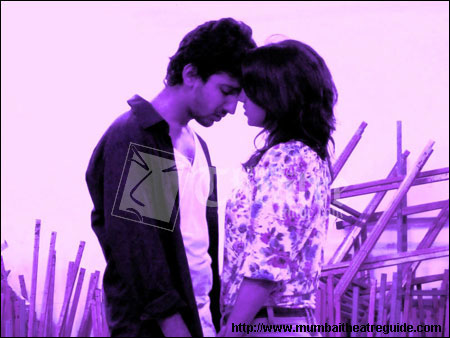 Thespo's 13th edition has sprung up a production of COCK, from a script by British playwright Mike Bartlett. COCK concerns itself with a young man John (played by director Manish Gandhi), who is safely ensconced in a gay relationship that has displayed some longevity, before his world is turned upside-down by his unexpected awakening as a bisexual man after a fulfilling romantic tryst with a woman. He's now called upon to choose one or the other, and it seems more like choosing a side in a battle than just a lover.

It's tempting to judge the play resolutely within the ambit of youth theatre—as Thespo purportedly represents, with an under-25 criteria for its legion of intrepid young hopefuls, almost like a Roadies for the theatre world if you will (with none of the desperation, but all the keenness given the challenges taken on in all aspects of theatre-making)—but that would be rather a disservice to the potential in directing and acting demonstrated by this particular production, even if it's only in fits and starts.

True to form (given that Mr Bartlett has won an Olivier Award for the Royal Court production), COCK starts off in blistering fashion. The writing is witty and full of candor, peppered with the kind of conversational flourishes that betray a lot more of the characters that they themselves seem to be letting on. It's deliciously oral, words tumble out in an urban contemporary dialect that seems oddly familiar despite the play being set in London. This is in part due to Mr Gandhi and his co-actor Prabal Panjabi (who plays John's boyfriend) performing in their natural tongues (rather than feigning accents) without a trace of affectation, bringing out the universality of the material perfectly except in the littlest things (like cultural references that may mean nothing to an Indian audience, unless they've been weaned on Bridget Jones' Diary).

Mr Gandhi displays some acuity as the director of the piece drawing a lot out of the sparseness at his disposal, keeping the tone light and never quite didactic, for the most part. There are no props, just the actors, who negotiate the emotional terrain in a circle marked out by light, like it were the pit-arena for a sport-like confrontation. The music (performed by Kaizad Gherda), never meant to be a 'character' although it tries, hits a few discordant notes at first before receding unobtrusively behind, lighting up the sombre moments. Neat transitions punctuate the action on-stage and there are some inventive story-telling choices, a few of which work, like a scene of fully-clothed implied nudity that is still disarmingly intimate and precious.

However, he doesn't acquit himself quite as handsomely in the acting department, performing the entire spiel in a single register, already a deer in the head-lights very early on, with none of the cadences that would actually bring out his character's predicament over the length of the play. He seems to be subconsciously marrying the indecision of his character to his own indecision as an actor on how to approach the situation. John is confused, the blurb tells us as much, but there is really nothing to get into the heart of that confusion, or understand his conflict better. With his nervous energy on stage, Mr Gandhi is very much in character but there is no graph to it, his wavering speech and half-pauses marking him out as the veritable White Rabbit to Mr Panjabi's March Hare.

Mr Panjabi is a dapper presence on stage and plays the gay boyfriend, M, in non-stereotypical fashion, with none of that camp hyperventilating that seems to be coded into the script. He owns his moments and brings in that touch of lightness, although he does run out of steam around the half-way mark (as does the production as a whole), and he is never quite as unsympathetic or cocksure or overbearing as the script demands of him, preferring more to soften his character's irksome traits with charm and leniency. COCK offers a rather grown-up depiction of the dynamic between two men, whose sexual rapport seems to have wound down, but there is still a kind of kinship that binds them together, almost like they were 'brothers', as M says, tellingly.

The forces of attraction are supposedly more palpable in the other angle as Asmita Bakshi steps in as the woman of the piece, W, cutting quite a forlorn figure in a corset, worried she's just a blip in John's radar and he would inevitably return to his boyfriend in the end. In what seems like a cop-out, the gay kiss takes place in a fade-out, whereas the one between John and W is given a more full-blown treatment, that unwittingly underlines the lack-luster chemistry between the players, and strangely, in a general way, the sexlessness on the Indian stage as a whole. There is more sexual adventure still, with streamers of light illuminating a love-making session, where moments of tender foreplay incongruously assume the dimensions of wild sexual abandon.

Despite all of this, COCK isn't quite as provocative as the title would suggest. There is very little blood-letting, figurative or otherwise. When M's father turns up trying to embody the generational shift as it were—in winter woolens and old-style acting (Rahul Chhabria's broad British accent jars somewhat)—the play skids off the rails. Cliches start cropping up with some frequency and rather than an updated take on contemporary relationships, the play assumes the stance of a 50s style informercial on the nature of homosexuality.

There are important arguments, of course. More than anything, COCK raises the specter of sexual identity politics. A bisexual man exercising his own volition is looked upon with suspicion when he'd much rather not be bogged down by labels and instead embrace a notion of sexuality that allows much more fluidity. Mr Gandhi seemed book-ended by both sides of the argument. Mr Panjabi is the oppressor although he doesn't seem quite convinced of his own tyranny. Ms Bakshi demonstrates a shrewish determination to get her man, but her story ultimately plays out like a cautionary tale titled, 'Who Not To Get Involved With'. The play does queer the pitch somewhat when it talks about how John has almost been pre-conditioned to be gay (unlike in India, where the reverse continues to be true).

At one point, a character blurts out, "There's nothing really important going on" and in this world of diminishing returns, there is no pay-off waiting in the sidelines. Superficial utterances are bandied about like truisms and we miss out on what could have been a more psychologically fleshed out study of the kind of complex connections urban culture throws up. Maybe COCK deserves a pat on the back for stretching the argument a bit, but that's about it. As far as Thespo goes, there is certainly some bonafide talent on display and that's always a good takeaway.

*Vikram Phukan runs Stage Impressions, a theatre appreciation website.