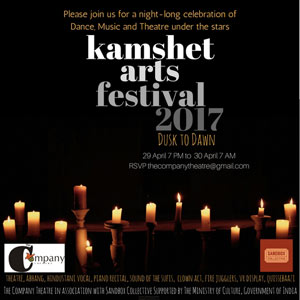 Get away from the bustle of the city, head to an arts space nestled in the hills, surrounded by a lake, located between Mumbai and Pune. Join theatre people, musicians, artists and audiences from across the country to celebrate theatre, music, dance and good food in a dusk to dawn festival.
The Company Theatre
and
Sandbox Collective
are very pleased to invite you to celebrate with them at
The Kamshet Arts Festival
, a Dusk to Dawn arts festival under the stars, featuring memorable performances from across the country.
The
Kamshet Arts Festival
will be inaugurated at 7 pm on 29th April 2017
and will be followed by festivities all through the night with a sunset-to-sunrise program that celebrates theatre, dance and music with some of the most acclaimed performers in their respective fields.
The entry to the festival is free and open to all.
Flanked by a beautiful lake and surrounded by hills,
The Company Theatre
work space is a beautiful and idyllic theatre space that has seen the creation of several new experimental works in recent times.
This is the third edition of the Kamshet Arts Festival
.
All are welcome, but must RSVP @
thecompanytheatre@gmail.com
.
The Programme:7:00pm
Inauguration of Festival by Lighting of Lamp.
All night long:
1) Theatre: DALAN (Play)
2) Music: Abhang by Avdhoot Gandhi
3) Music: Western Classical by Emma Gilljam Tillu
4) Documentary Theatre: Sounds of the Sufis
4)Theatre: NO REST IN THE KINGDOM (Play)
5) Music: Morning Ragas by Ronkini Gupta
6) Kalaripayattu: Arpit Singh
7) Theatre: Actor Satchit Puranik will present.
8) Anand Gandhi on Exploring Virtual Reality
9) QISSEBAAZI by Danish Husain and Kashinath Singh
About The Company Theatre:
For the last 20 years The Company Theatre has been creating theatre ranging from physical mime to absurdist drama to clown adventures and musical sagas. The work has travelled from historical venues like the Globe Theatre in London to theatres in Bareilly and Indore. A few years ago The Company Theatre finally realised its long-standing dream - the creation of a workspace dedicated entirely to performing arts - The TCT Workspace at Kamshet. This 5-acre centre set amidst the rural landscape of the Western Ghats is a one-of-its kind contemporary performance research haven built to facilitate national/international artist exchanges, training programmes and the creation of new work in theatre, dance or music.
About Sandbox Collective:
Sandbox Collective is an arts collective located in Bangalore that creates, produces and curates performances. It aims to act as a catalyst facilitating meaningful collaborations nationally and Internationally between artists, cultural agencies and arts spaces. In the three year of its existence it has performed nearly 500 shows across the country and toured Internationally.
Mumbai Theatre Guide takes no responsibility for change in schedule.