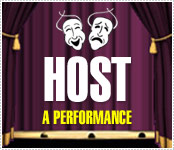 POPCORN WITH PARSAI Dayashankar Pandey is a fine actor and he succeeds. He plays diverse characters while getting the nuances right... more...

Sanjay Goradia
"All regional languages are under threat. They will be forgotten. Whenever a Gujarati is cremated, we lose one..." more...

EK MULAQAAT
EK MULAQAAT revolves around two eminent poets- Sahir Ludhianvi and Amrita Pritam. It is a play...
more...

CHINESE COFFEE
A play about friendship and the loss of it - Harry Levine and Jake Manheim are two friends and failed artists...
more...

AAJ JAANE KI ZID NA KARO
An unconventional love story of a cop and a call girl who incidentally meet in a railway compartment...
more...

LOVEBIRDS
It is said that lovebirds live in pairs. The passing away of one will lead to the end of his or her partner...
more...

Raj Yadav
I do read lots of articles about theatre...well can't explain why they are interesting for me...well they are... more...