Being Association's 'Sanhita Manch' wants to encourage new Hindi plays... A small festival will kick-start the endeavour...



August 11, 2017 10:14:10 AM IST
MTG editorial


Being Association has organised 'Sanhita Manch' for the purpose of sharing new Hindi plays and to encourage young theatre directors. It sent out a call for entries and 5 plays have been chosen out of 77 plays from across the country. The jury for the festival was Ranjit Kapoor, Tripurari Sharma and Kumud Mishra. The plays will be published by 'Story Mirror'.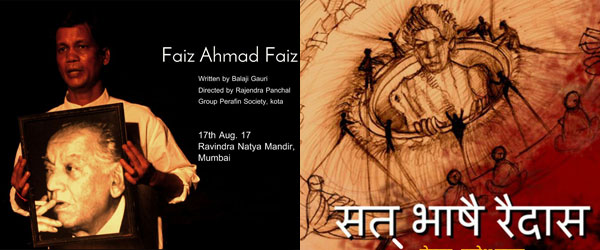 The selected plays are
SAT BHASHE RAIDAS
by
Rajesh Kumar
,
FAIZ AHMED FAIZ
by
Balaji Gauri
,
PATTHAR KE PHOOL
by
Avnish Singh
,
AGARBATTI
by
Ashish Pathak
and
DAALMOTH
by
Rahul Rai
.
Three of the selected plays will be staged on 16th, 17th and
18th August 2017 at the P. L. Deshpande Sabhagruha in Mumbai and on 22nd and
24th September 2017 at the India Habitat Center, New Delhi
.
The plays are directed by
Rajendra Panchal
of
Paraffin
from Kota,
Happy Ranjit
of
Unicorn
Actors Studio
from Delhi and by
Rasika Agashe
of
Being Association
from Mumbai. There will be interactive discussion sessions for freshers with eminent writers and directors. The festival will also organise an exhibition on the history of Hindi playwriting.
Plays in Mumbai will begin at 7.30 pm on all days
.
*Mumbai Theatre Guide takes no responsibility for change in schedule.

Schedule