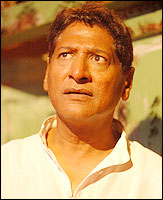 Rajendra Gupta says that he joined the National School of Drama (NSD) on an impulse. While studying at the University of Kurukshetra, a friend of his reccomended him to apply to the NSD. He did just that since he had already had an exposure to dramatics and says that his impulse paid off. He completed his diploma in Direction from the NSD in 1972. Since then he has worked in profesional theatre as an Actor/Director/Teacher in various cities like Delhi, Chandigarh, Kurukshetra, Luckhnow, Bhopal, Indore & Ujjain including the National School of Drama (NSD) as guest Director/Actor/Teacher till 1985. He then moved to Bombay and has since been mostly working in Television/Films & Theatre.
Since 1972 he has directed over 20 plays, including the recent EK THA GAHDA… staged at Aizwal, Mizoram; DIKHTI KHOOB HAI staged at Dubai, Bombay; DOOSRA AADMI, DOOSRI AURAT staged at the National Theatre Festival, Delhi; SURAJ KI ANTIM KIRAN SE SURAJ KI PEHLI KIRAN TAK written by Surendra Verma; KUSUM MANOHAR LELE in Hindi. Other plays include DALDAL adapted from Tolstoy's 'Power of Darkness'; KHOOB MILAI JODI adapted from Neil Simon's 'The Odd Couple'. He has also done more than 100 shows of plays like RAKT PARINAYE adapted from Lorca's 'The Blood Wedding'; MOUSETRAP by Agatha Christie; CHOR KE GHAR MOR, an adaptation of 'Volpone'; BEEWION KA MADRASA, an adaptaion of 'School for Wives' by Moliere; AADHE ADHOORE written by Mohan Rakesh; ANDHON KA HATHI written by Sharad Joshi; ANDHAA YUG written by DhramVeer Bharti; DEAR CHILDREN by Neil Simon and DEVIYAANI KA KEHENA HAI by Ramesh Bakshi. For IPTA's annual festival of 2006', he directed a Hindi adaptation of Albert Camus' LES JUSTES. The adaptation titled SARPHIRE was one of the plays that premiered at the festival.
Rajendra Gupta is also a respected actor with experience in stage, television and cinema. He has worked with some well-known directors in all the three media and is a known face in television and film. Some of his better known television credits include 'Discovery of India' directed by Shyam Benegal, 'Tamas' by Govind Nihlani, 'Katha Sagar' by Kundan Shah, etc. His film credits include movies like 'Lagaan' directed by Ashutosh Gowarikar, 'Saleem Lange Pe Mat Ro' directed by Saeed Mirza, 'Sahar' directed by Kabir Kaushik and others. As far as his recent theatre credits go, he has acted in plays like SIR SIR SARLA directed by Makrand Deshpande and in the self directed SURAJ KI ANTIM KIRAN SE…in which he acted with Neena Gupta.