| | |
| --- | --- |
| Writer : | Vasant Kanetkar |
| Director : | Bharat Dabholkar |
| Cast : | Vijoo Khote, Smita Jayakar, Atul Parchure, Shivani Tanksale & others. |

A Funny Thing Called Love
---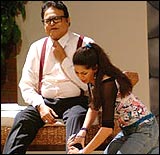 This play has been adapted by Bharat Dabholkar from Vasant Kanetkar's original comic play called PREMA TUJHA RANG KASAA. Vijay Kenkre had once directed a production of the original and is also the associate director of this production. As is evident from the title, the four-lettered romantic bug is at its funniest best and undoubtedly causes a lot of mischief.

Mr. and Mrs.Desai (Vijoo Khote & Smita Jayakar) are living a nice, quiet and happy family life till their household is overturned by Melvyn and Doughy D'Costa, owners of 'Car & Bar', Mumbai's very first garage cum bar. Breaking away from Mrs. Desai and Doughty D'Costa's orthodox beliefs, Professor Desai's daughter Anushka Desai elopes with Doughty's son Melvyn to declare that they have found true love. It is not long before their starry-eyed dreams hit ground dust.



In the meanwhile, the Desais' other child, Bunty Desai thinks himself to be an authority on all things concerning love and is smitten by every pretty face that he sees around him. He is yet to find his ladylove. But things are different when she finds him. In true Dabholkar fashion this play promises to stick out its humour in your face as it gets performed by well-known television, film and theatre personalities.



---
| | |
| --- | --- |
| | A Funny Thing Called Love Play Schedule(s) |
No upcoming shows.