| | |
| --- | --- |
| Director : | Sharmistha Saha |
| Cast : | Lata Singh/ Bharti Perwani and Sukeerti Sharma |

HER LETTERS
---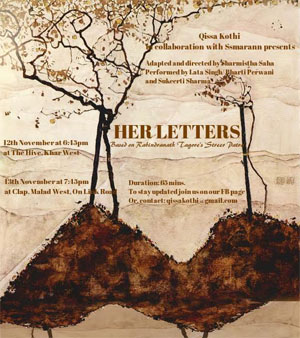 In India in the recent times, the question about a woman's being as she would wish, at home or outside, has been at the core of a great debate. Possibly this process needs to meander into all other collective beings precisely because we cannot still vouch for the fact that in any part of the world there is a promised land for women and for everyone who seeks respectful living.

HER LETTERS, based on Rabindranath Tagore's 'Stree Patra', is an attempt to re-discover Mrinal, the protagonist of Tagore's 'Streer Patra' written hundred years ago. In a letter that she writes to her husband, Mrinal the poet declares herself free, and finds herself merging with nature. She writes, – 'For I shall also live. Here, I live.'

As she finds herself, we as her collaborators, find ourselves in our own stories that get woven to 'Her Letters'. Adapted by Sharmistha Saha and includes additional text: Additional Text: Virginia Woolf's suicide note, Amrita Pritam's poetry.





---
| | |
| --- | --- |
| | HER LETTERS Play Schedule(s) |
No upcoming shows.