| | |
| --- | --- |
| Director : | Anuja Ghosalkar |
| Cast : | Anuja Ghosalkar |

LADY ANANDI
---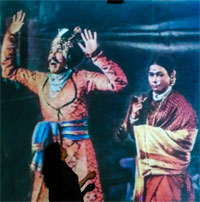 LADY ANANDI is a documentary theatre performance by Anuja Ghosalkar. It is a solo and tells the story of a female actor, Lady F, who is haunted by the ghost of her great grandfather - a female impersonator in late 19th century Marathi theatre - every time she goes up on stage, and her love for moustaches. Using a series of visual projections, anecdotes and fiction, it moves back and forth in time.

This is as an unfinished piece - it is an active exploration that evolves with its audience. It aims to draw the audience's attention to the process of making work rather than presenting a finished product. In the absence of a director, the audience, take on that role. Therefore, the Q&A at the end of the show is an integral part of the performance.



---
| | |
| --- | --- |
| | LADY ANANDI Play Schedule(s) |
No upcoming shows.

Schedule