| | |
| --- | --- |
| Director : | Rahul Da Cunha |
| Cast : | Rajit Kapur, Shernaz Patel, Shishir Sharma, Meera Khurana and Kajli Sharma |

THE SIDDHUS OF UPPER JUHU
---
THE SIDDHUS OF UPPER JUHU offers a satirical glimpse of how a city and its civic and civil issues can drive a sane man to the brink of a nervous breakdown. The play deals with an average middle class couple's struggle to survive in our mad city. It deals with economic meltdown, urban angst,t​he madness of a consumer society and a city that is itself on the brink of nervous collapse.​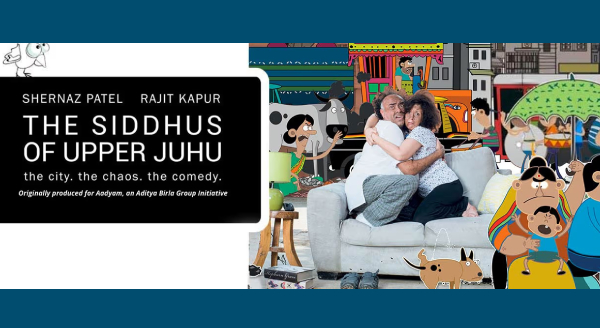 Balvinder aka Bubbles brother Goldie Siddhu and sisters Pammi & Smiley, a 50-year-old a well-paid financial executive, and his loyal Parsi wife, Behroze, live on the fourteenth floor of a typical modern Upper Juhu (read Andheri) high-rise called Sea View Towers (where the sea view is no more than a 'sea glance' actually). In spite of having poured their life savings into this 2-and-half BHK flat in Mumbai, everything civil and civic seems to go wrong. The walls are paper thin allowing him a constant earful of his neighbours' private lives and the flush doesn't work unless jiggled. Compounded with the continuous BMC drilling, the howling of stray dogs, and the stink of uncleared garbage, with the endless racket of this unsleeping city, Bubbles goes steadily pissed off and paranoid.

Just when things seem like they can't get any worse for a Mumbaiwala, sadly, they very often do. Bubbles gets fired from the company where he has worked all his life after a rough patch the firm goes through. And then his apartment is burgled and the robbers take not only all his clothes, but his precious Black Label as well. He becomes a middle-aged corporate man prowling round his flat with crazy plans and paranoia.


Behroze, his loving and supportive wife, who had quit her job years ago to raise their two daughters, is forced to go back to work. And Bubbles' rich farm-owning brother, Sunny Sandhu and his sisters, Pammi and Shammi from Ludhiana are brought in to help save their brother's financial crisis and ill health with hilarious consequences.

---
| | |
| --- | --- |
| | THE SIDDHUS OF UPPER JUHU Play Schedule(s) |
No upcoming shows.