| | |
| --- | --- |
| Writer : | Siddharth Randeria |
| Director : | Siddharth Randeria |
| Cast : | Siddharth Randeria, Tejal Vyas, Juthika Shah, Hitesh Upadhyay, Sameer Gurav, Sachi Joshi, Rohinton Chesan |

Lo Gujjubhai Ghode Chadhya
---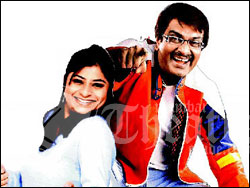 LO GUJUBHAI GHODE CHADHYA, Siddharth Randeria's new comedy is a crazy Gujju love story of Manoj Doodhwala and Manisha Khandwala. Their romance starts at an 'out of service' bus depot and leads to a completely 'out of order' marriage. Manoj, a Gujju boy who is eager to get married, must overcome his shy nature to win over his ladylove. The trouble is, he has never proposed to anyone before. With the fear of being rejected, he takes advice from all the wrong people, including his always unlucky in love Boss. All his attempts to say the 4 words "Will you marry me" lead him through many hilarious situations, but when he finally does get the girl of his dreams, he believes he has everything he ever wanted and his life is now complete......Well in a way, he is correct.

He no longer has a life of his own and he becomes like a tennis ball whacked at both ends, on one side his dream-girl turned into his real wife, and on the other his mother, now promoted to being a mother-in-law. If being bossed around by two women at home wasn't enough, even his new Boss at work is a woman called Laila Mirchandani. Poor Manoj has no one to turn to, even his father, Dashratlal Doodhwala, is only too happy to pass on the baton of being 'The Married Man' to Manoj and watching the domestic fireworks from the sidelines. Come prepared to laugh till it hurts.





---
| | |
| --- | --- |
| | Lo Gujjubhai Ghode Chadhya Play Schedule(s) |
No upcoming shows.