| | |
| --- | --- |
| Writer : | Sanjay V. Shah |
| Director : | Dinkar jani |
| Cast : | Ami Trivedi, Alirza Namdar |

Ame Mastina Matwala
---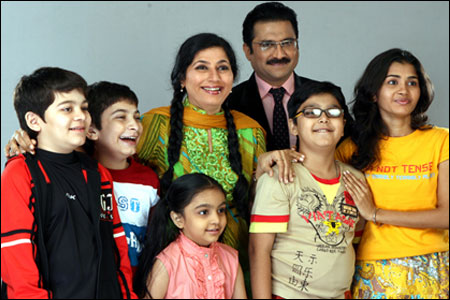 The play is set in the mansion of Aswinkumar Raghuvanshi, a multi-millionaire and a widower with 5 children. There is also a trusted valet- Nathu kaka who is as good as a member of the family. It is Nathu kaka who also supervises the house. The children are a naughty bunch of rebels led by the eldest daughter Padmaja, who is sixteen years old. She is followed by Harshvardhan and Jayvardhan who are twins and then there is Yashvardhan and the youngest one is called Shailja. These children have already scared 17 governesses out of the house and now waiting for the 18th one. In walks Anuradha who herself lacks confidence but is full of life and absolutely childlike. She is sent from an ashram run by Mohan bapa.

At the outset one wonders whether she will be able to teach these kids the Gujarati language, instill in them a sesnse of culture or least tame them at the very least. But Anuradha accepts the challenge and amidst lot of fun, laughter and music she bridges the gap between the father and the children. Everything is fine at the Raghuvanshi home when one fine day the father brings home his business associate Mohini and declares that after a lot of deliberation they have decided to get married and settle down. The children do not like her but accept her as their father wanted them to. Ashwinkumar thanks Anuradha for all the good work she has done with his children. Anuradha is very happy to receive his appreciation and is just about to retire when she comes face to face with Mohini. She is shocked to see this woman in this house and is scared to death. She is forced to leave the house and go back to the ashram without informing anybody.

Who is Mohini? Why is Anuradha scared to death? Does she come back to the children? What happens to Ashwini and Mohini? What do the kids do in Anuradha's absence?



---
| | |
| --- | --- |
| | Ame Mastina Matwala Play Schedule(s) |
No upcoming shows.