| | |
| --- | --- |
| Writer : | Meherzad Patel |
| Director : | Danesh Irani |
| Cast : | Danesh Khambata, Danesh Irani, Dinyar Tirandaz, Roshan Tirandaz, Afshad Kelawala, Shanaz Jehani, Parinaz Jal, Pheroza Modi, Azmin Mistry, Zenia Kollah, Huzan Wadia, Siddharth Merchant, Farokh Kateli, Sajeel Parakh and Sam Patel |

I'M BAWA AND I KNOW IT
---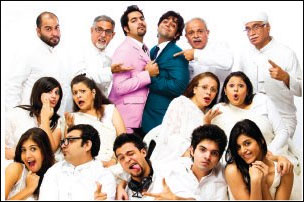 Keki's parents are selling their flat in Cusrow Baug and migrating to Canada, but their rebel son Keki doesn't want to come along. The Parsi Panchayat Trustee informs him that he can only keep the flat if he gets married to a Parsi girl before they leave for Canada within 30 days.

The problem: Keki does not like anything Parsi; in fact, Keki does not like girls!
His secret boyfriend Viraf decides to teach him everything there is to know about being a Bawa and they decide to get ''married'' to ensure that they get to keep the house. Viraf dons his wedding dress and becomes Keki's fiance, 'Nargis', in what leads to a series of unfortunate events between the betrothed boys. The fun begins when Viraf's parents come to their ''son's'' wedding.

The play questions the principle that demotes marriage outside the community, unfair housing policies and the taboo of homosexuality in the 21st century.