Direction : Somya Joshi
Writer : Somya Joshi
Cast : Jayesh More, Prem Gadhavi, Himen Trivedi, Vishal Vaishya.


102 Not Out play review
---
102 Not Out! is Saumya Joshi's latest play and an important event for Gujarati theatre. It comes quick on the heels of the writer-director's former play WELCOME ZINDAGI, which has proved to be a great success. Saumya's work is original, has no 'known' faces, no glittering costumes or jewellery, and neither the grand sets that are a common feature on the Gujarati stage. Saumya creates magic with his unique sensibility, his poetic expression, his insight into human nature and by his transparent perception of the human predicament.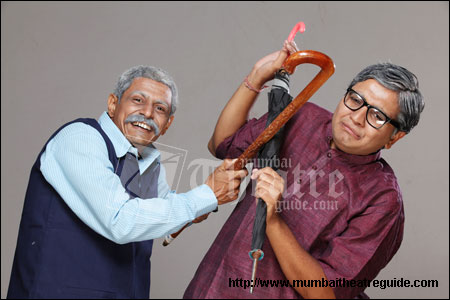 The story of the play deals with strange events but which are not unrelated. At the core of the play is an old man's dream. The old man who is 102 years old wishes to go to the highest post office in the world which is situated at Ladakh, and send postcards from there to his friends and his son, who is 75 years old. But he cannot think of such a journey without the help of his son. One often hears about the generation gap, and of parents who fail to understand their children. But Saumya's play works in reverse mode. The father is 102 years old but his 'mental age is 26 years'. He is full of life and optimism while his 75 years old son has closed the doors to life and its beauty. This 102 years old man feels that he needs to bring normalcy to his son's dull and morose life!

The drama of the two 'old men' unfolds in a 150 year old bungalow in Mumbai. Father and son find company with the delivery boy from the neighbourhood medical store, and the trio creates a riot of laughter. But this is not a meaningless comedy. There is a lurking pathos that magnifies a deeper tragedy. The audience feels that they are in the company of real people and their very real problems.

Saumya's plays can be compared with any first class Indian dramatist of our times. His three characters are poles apart from each other in age, ideas, perception and behaviour. And yet an uncanny chemistry between them creates a touching drama. His direction is also immaculate. Everything finds its proportion and balance.

The three quite unfamiliar faces of the cast are a sheer joy to watch. The slim, lean and agile Jayesh More plays the young at heart 102 years old. He assumes the perfect posture as would be expected of a man who has considerably aged and his coordination of movement and speech brings out the desired subtle emotions. Prem Gadhavi as the 75 years old son is equally convincing. His gradual makeover from a dull person, who has given up on life to one bursting with energy and enthusiasm, is remarkably projected without any exaggerations. Hemin Trivedi as the delivery man Dhiru is adorable with his childlike innocence and transparency, and his unflinching loyalty to both father and son.

The set and the light design are interesting and aesthetically appealing; the melodious song forms an integral part of the play and takes the plot forward. There are layers to this play even as its story is inspiring and heartwarming.

*Jyoti Vyas is a senior theatre and television person who has trained under Ebrahim Alkazi at the National School of Drama (NSD). She has written for publications such as 'The Asian Age' and the Prithvi Theatre Newsletter (PT Notes). She has also trained students in the Theatre, and is an important critical voice for Gujarati Theatre.






Schedule
Theatre Workshops
Foundation Skills in Acting
Develop vocal confidence, stamina, projection, clarity and presence Tools and exercises for the voice Understand voice production Use the voice for acting



---


1 Month Weekend Action, Fight & Self Defense Workshop By Bollywood's Top Action Director Mr Moses Fernandes
Learn how to perform action and fight scenes for movies, get practical training, learn about safety measures, blocking, kicks, punches and more.



---


3 in 1 workshop. 2 Months Direction, Acting & Dance Workshop
Do you plan to learn the basics of direction along with acting and dance over the weekends? Then in this case this is the perfect course for you.



---



Register a workshop | View all workshops