Direction : Rahul Ramchandani
Writer : Rahul Ramchandani
Cast : Rajshree, Devendra Kumar Mishra, Pratap Singh, Kinjal Jain, Shantanu Kulkarni, Rakesh Kumar, Vikram Singh Soda, Sonal Pandey, Raju Hanchanle, Varun Monga, Karan Singh


DEORALA 1987 Play Review
---
Schedule
No upcoming shows.
In 1987, 18 - year old Roop Kanwar committed Sati in Deorala village in Rajasthan. Witnessed by many, supported by the local politicians and eulogized by the Rajput community - Roop Kanwar burned herself to death and they even built a temple in her honour. The incident attracted a lot of nation-wide press as the reality hit home that even after so many years of independence and freedom, India's social realities had gruesome stories to tell.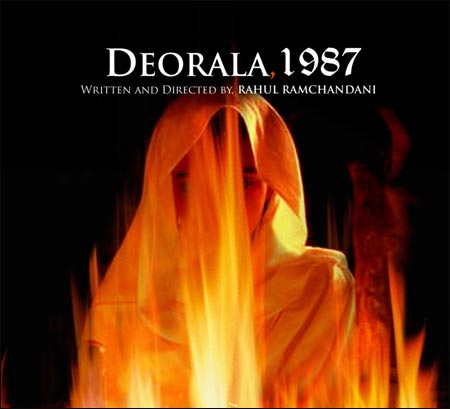 Writer-director Rahul Ramchandani chooses to revisit the horrific episode through this one-hour play. The play opens amidst media uproar over young Roop Kanwar's death and then probes into Roop's emotional and social set-up. Petulant yet a devoted young bride, Roop dotes on her handsome husband. His business often takes him to bigger towns from his native village Deorala in the Sikar district of Rajasthan. Roop urges him to show her the big world whereupon he wonders about her naivete and vulnerability. He's troubled over what would happen to her if she were left alone in the world. Steeped in romance and innocence, Roop volunteers to commit Sati, a drastic step that her husband appears to approve of. When her husband dies in a motor cycle accident, Roop decides to commit Sati. Her friends, relatives and even in-laws try to talk her out of the age-old and legally banned ritual, but she remains firm about her decision and happily sacrifices her life. The local police fail to intervene owing to political pressure from the then Chief minister Bhairon Singh Shekhawat and Roop becomes a martyr.

The tragedy was condemned by the then Prime Minister Rajiv Gandhi and many were arrested as perpetrators of crime. But they were released unpunished later as there was not enough evidence leading to the true facts of the incident. The play takes a peek into the emotional world of a young Rajput bride and the limitations of choice in her cloistered life. The writer-director presents Sati as the sole alternative available to Roop. He ought to have been emphatically opposing the whole episode, but then the ways of mind are rarely logical. He could not be right that Roop had no option ... but Sati?

The play relies solely on the actors and the spoken word. The stage is mostly bare and props non-existent, but that is no hindrance to the flow of the narrative. The make-up is school-playish, very amateur with chalky white paint strokes for the hair. But credit is due to Rajshree who essays the role of Roop endearingly and to actor Devendra Kumar, a strapping young fellow, who plays her husband. In all, the play recalls a forgotten tragedy; a grim reminder of how ancient, orthodox customs in one form or the other continue to be a blemish on Indian society.

*Deepa Ranade is a film and theatre reviewer. She has been an entertainment journalist for over fifteen years.




Schedule