Direction : Vikram Kapadia
Writer : Vikram Kapadia
Cast : Darshan Jariwalla, Anahita Uberoi, Zafar Karachiwala, Viraf Patel, Rasika Duggal, Jeneva Talwar, Namit Das and Devika Shahani-Punjabi


Bombay Talkies play review
---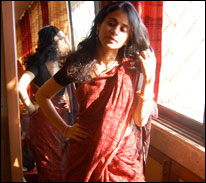 Mumbai is a city that pulls at our emotions; from the Bollywood films that make us laugh to the hectic streets that threaten to push us to tears, Mumbai certainly leaves its impact on us. For this reason, it seems only fitting that a play emphatically focused on representing the city has a duty to portray this colourful affective range.

Writer-director Vikram Kapadia's entry to the NCPA-AGP Centrestage 2011 festival depicts the lives of eight Mumbaikars, all with their own uniquely moving story. Following in the tradition of the movies - 'Paris, je t'aime' and 'New York, I Love You', the piece's mood is largely optimistic about the location from which it draws its inspiration. The complexity, then, is seen in how the characters map out their relationships, consciously and unconsciously fuelling the production with insights into their immensely developed identities.

Appropriately, these diverse stories unfold infront of artist Jesal Thacker's collaged Mumbai cityscape, thus articulating and celebrating the variety of the city. Set designer Fali Unwalla has charged this backdrop with yet more significance by placing scaffolding between it and the speakers. Does this represent a city constantly being updated, or bring to mind a grid reference, echoing the production's sense of mapping out a city? Either way, the design is effective in encouraging further thought, without becoming too invasive for the larger picture it wants to show.

As the play is set in both domestic and public settings, the locations are, at once, symbolically charged and ordinary. After two or three monologues have panned out, one important thing becomes apparent: the depth of these Mumbaikars is a result of what they are hiding as much as what they show. In a monologue entitled 'Baby Dimple', this balance is exquisitely articulated in a masterful performance by Rasika Dugal. There is a delicious, cultivated false confidence about Dugal's character, a young woman trying to re-launch her acting career after a successful period as a Hindi child star. The character speaks with confidence about her past, assuring us that we've probably seen her on TV. Balancing a fragile boldness with a trusting intimacy, Dugal's character is extremely layered but, ultimately, characterised by a delusion which paves the way for a touching degree of vulnerability.

BOMBAY TALKIES is billed as a show about 'uncensored emotions' but as themes of delusion continue throughout the work, it becomes apparent that 'uncensored' is the wrong word here. These characters, marked by failure and doubt, are clearly self-censored. While they may communicate through candid expression, they subtly allude to greater truths. Real credit must go to Kapadia for ornamenting his scripts with such elusive, contradictory characteristics which ultimately make his characters feel so powerfully human.

*Amelia Forsbrook is a critic and arts writer based in Wales, UK. Currently she is following the National Dance Company Wales on their Indian tour. In the past, Amelia has written for the Guardian, Buzz Magazine and for a range of other publications.





Schedule