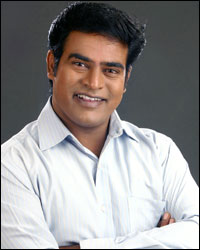 Anand Alkunte began doing theatre with the Progressive Dramatic Association (PDA) in 1992. Since then he has worked with various organizations like Avishkar, Avakakash Kala Manch, Lalit Mumbai, Artist Guild, S.A. Communications, Suyog, Maharashtra Rangbhoomi, Atharva and others. He has acted in Hindi plays
LAKEEREIN
and
ATTHANNIYA,
written by
Gulzar
and directed by
Salim Arif.
His recent plays include the Marathi plays
KABADDI-KABADDI
with
Vinay Apte
and
JASWANDI,
written and directed by
Sai Paranjpe.
Anand is active in both Marathi and Hindi Theatre. He has acted in
YAYATI
and
TALEDAND
written by
Girish Karnad, BAR-BAR, PREMA TUZA RANG KASA,
and various other plays. He has also acted in films like the National Award winning
Jogva,
in
Nishani Dava Angatha, Made in China, Pratisad,
Mohan Avate, Burjwagaman, Once upon a time in Mumbai.