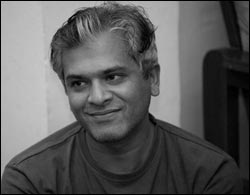 Atul Kumar is Artistic Director of The Company Theatre, which is based in Mumbai. He has been involved in the art and pursuit of serious theatre for over two decades now. Education in French Language & Literature at JNU, Delhi was followed by a prolonged basic training in Kathakali and Kalaripayattu in Kerala for over three years as well as a stint with the master of visual theatre- Philippe Genty in France. Atul Kumar has also worked with Sacramento Theatre Company in the USA. He founded The Company Theatre in 1993 but has been directing and acting since the eighties.
Under the aegis of The Company Theatre, Atul Kumar has been instrumental in organising national as well as international theatre festivals and other theatre related events. He has also been involved fleetingly in several television projects besides live events and film assignments, which have often helped fund the theatre projects of the company. His vocation however has only been the pursuit of Theatre.
Atul has also translated a few plays into Hindi such as Moliere's TARTUFFE and Ionesco's THE CHAIRS. He has received many awards and honours such as the Charles Wallace scholarship. The Company Theatre also has a youth wing called Evam that supports and encourages young theatre people.