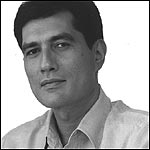 Denzil Smithís name needs no introduction as an actor who has been working on the Indian English stage since the mid eighties. A postgraduate in English literature from Mumbai University, Denzil has worked with many known theatre groups and directors. He has also traveled a fair bit as an actor giving performances in places like New York and Toronto.
He has played many different characters ranging from Lucky of Samuel Beckettís WAITING FOR GODOT (production by Motley) to Nehru in LETTERS TO A DAUGHTER FROM PRISON (directed by Vijaya Mehta) to the more recent agitated TV Anchor in Zubin Driverís MISSING PEOPLE.
Denzil has also worked in other media such as television, radio and film. In fact, he has his own website on which information is available about the work that he has done so far in the different media, including the theatre.
As an actor, Denzil has to his advantage good looks, a command over the English language and a sense of the actorís art and theatre aesthetics. For instance, he gave a fairly good performance in David Mametís LIFE IN THE THEATRE, directed by Zubin Driver. And it seems that the roles that he has played so far have won him decent reviews and accolades.