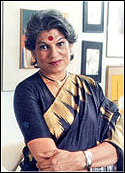 Dolly Thakore says that she was hooked to the theatre when she was barely five years old. Once while playing Krishna, her small child's robes came loose on the stage. Her fascination with the stage lights has not gone down since. Since her father served in the Indian Air force, she had the opportunity to participate in a number of festivals and entertainment programmes.
She thus graduated from leading the parade of UN Day at the age of nine to working with some of the leading directors of the Indian English stage such as Adi Marazban, Janak Toprani and Alyque Padamsee. Interclass, Inter college, Inter University, National debates and elocutions were an intrinsic part of her growing years. For instance she remembers playing the Queen of the Amazons in Benn Levy's The Rape of the Belt with Amitabh Bachchan playing Zeus in the annual Miranda house play wayback in 1962.
Dolly has acted in many plays written by master playwrights which include Tennessee William's STREETCAR NAMED DESIRE, Arthur Miller's ALL MY SONS, Harold Pinter's THE BIRTHDAY PARTY and Edward Albee's WHO'S AFRAID OF VIRGINIA WOOLF. Recently she acted in Mahabanoo Mody Kotwal's production of Eve Ensler's THE VAGINA MONOLOGUES.
Her interest in the theatre is not restricted to acting alone. She is an avid theatergoer too and has contributed reviews of plays and films to known newspapers and magazines such as The Sunday Times, Indian Express, India Today and others. She has also been called by educational institutions such as St. Xavier's College, Sophia College and IIT-Powai as a judge.
Besides being a theatre person, Dolly has been in the business of communications and public relations for over twenty years. She began her career as casting director and unit publicist with Richard Attenborough's film, 'Gandhi' and since then has worked on a number of Indian and International co-productions like 'Far pavilions', 'Kim', 'Indiana Jones And the Temple of Doom', 'Jinnah', 'Such a Long Journey', etc.
Trained in Radio and Television with BBC London, she returned to India to become one of the leading Newscasters and Television hosts, interviewing prominent citizens from India and abroad including film personalities like Amitabh Bachchan, Shabana Azmi, and authors like Stephen Berkoff, Khushwant Singh, and Farrukh Dhondy.
Events she has moderated and compeered include international Seminars and trade fairs, Festivals of France and USSR in India, National Gallery of Modern Art, Mumbai, Confederation of Indian Industries, Indian Merchants chambers, the Richard Gere Foundation, and many charity Art Auctions.
She was even a member of the Advisory panel of the Censor Board for Film Certification for many years and has served on the National Film Jury, Indian Panorama Jury, and was on the jury for the Indian Television Awards—2002. She has acted in two films until now and these are 'Page 3' and 'White Noise'.
Dolly has a string of awards to her credit such as the Media India Trophy for excellence in electronic media. Besides being an associate publisher for Dakini Books, London, she is also a visiting faculty for communication skills to a reputed management institute in the city. And if this were not enough, Dolly has also been involved with social-work projects and has scripted documentaries, house magazines, audiovisuals, etc.