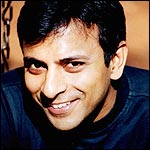 Joy Sengupta has already made his mark on the Indian theatre scene as an actor. Not only has he acted in a number of plays with reputed directors but also his performances have been well acclaimed. Joy is an English Literature Graduate from Delhi University.
After acquiring his honours' degree, he went on to receive a Diploma in Drama, which certified his specialization in acting. This diploma he acquired from the Living Theatre Academy in Delhi that was run by the well-known thespian Ebrahim Alkazi.
Having spent about 12 years as an actor now, Joy has worked with some of the well-established people of the Indian theatre such as Habib Tanvir, Safdar Hashmi, Barry John, Ramu Ramanathan and others. He has acted in productions directed by Lillete Dubey too and has performed in New York, London and at the reputed Edinburgh Fringe Festival.
He has ample experience in other media too such as the film and television. Some of his noted films are 'Hazaar Chaurasi Ki Maa' and 'Deham' which were directed by Govind Nihalani. 'Deham' was chosen for the London theatre festival and won the NETPAC award at Sweden. His other films such as 'Patalghar and 'Bhalo Theko' were invitees too at international festivals such as the Cairo film festival, the film festival of Netherlands and others. Joy has also played the character of Pran in Vikram Seth's Novel, 'A Suitable Boy' which was directed by John Dryden for BBC Channel 10.
Besides acting, Joy has taught as a teacher for "Theatre in Education" in schools in Delhi. He has even conducted workshops using drama as a tool for literacy initiatives undertaken by various NGO's. For a short time, he has also worked as a political journalist for a magazine called 'India Speaks'.
Undoubtedly, Joy is not only one of the mature actors on the Indian stage today but to his credit, he is also equipped with the knowledge, sensibility and humility-important qualities that an artiste must possess.