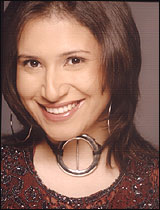 One fine day Nazneen Madan gave up her post as an HR Manager at AurionPro, an IT Solutions Company. She simply took the jump to follow her passion for acting. Naturally it was not easy for her and she had no clue about how she could proceed. Although she had acted in school and college productions she knew that being a professional actor was a different ball game altogether.
Just then hope appeared in the form of a phone call from an old friend with whom she had done news reading for a short while. The friend told her that a Mr. Kudos Wadia, a voice expert and trainer was looking for an assistant for his workshops. He needed someone who spoke good English. That was Nazneenís cue to pack her bags and move from Pune to Mumbai. A psychology graduate who went on to do her Postgraduate diploma in Human Resource Management from the Symbiosis College of Management in Pune, Nazneen came to the city with her parents from the Gulf of Bahrain when she was ten months old.
But following her calling Nazneen came to Mumbai to work for Mr. Wadia. She spent a few gruelling months training with him but was eventually able to cut her own demonstration tape that launched her career as a voiceover artiste. All of this happened in 2004, including her marriage. It was a difficult time for her because she knew that to do what she believed in, she had to go against the wishes of her family.
SHERLOCK HOMI by Centre Stage Productions was her first commercial English play in which she played the lead role. Despite working full time she joined QTPís acting workshop to hone her craft further. Eventually with the currently running THE OPEN COUPLE, a Bombay Theatre Company Production, Nazneen has demonstrated her ability to take on different roles. The play she says has made people sit up and take notice of her!
Besides several voiceover assignments, Nazneen has appeared in tele-serials like ĎJassi Jaisi Koi Nahií and has also acted in short films and commercials. She has also anchored shows and is now looking forward to exploring different scripts both for the stage and film. In spite of a struggling 2005, she is now enjoying every bit of her work and hopes to even write and direct someday.
For a complete update of her work please visit http://in.geocities.com/nazneen_vo