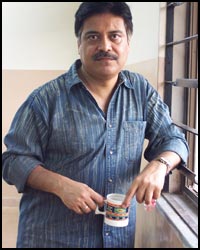 Salim Arif is an alumnus of the National School of Drama (NSD), New Delhi. In theatre, he has several production oriented workshops to his credit in a number of places in India. He was awarded an NSD fellowship to work on the subject of Interaction between Traditional and contemporary Indian theatre with reference to the works of Habib Tanvir, B.V.Karanth, Ratan Thiyam and K.N.Panikker.
Innovative in approach , exploring new contents for staging, his Taj Mahal Ka Tender, Kaifi Saab, Ghalibnaama, Kharaashein, Peele Patton Ka Ban , Dil Chahta Hai , Shyam Rang, Agar Aur Magar, Bayaane Ghalib, Rakt Kalyan, Parwaaze Bayaan Aur, Kachche Lamhe and Aapki Soniya have made him one of the most popular directors of the Hindi theatre scene in India.
Aap Ki Sonia has been performed extensively in India and abroad while Kharaashein and Ghalibnaama were showcased by the Bhartiya Vidya Bhavan, New York at the Lincoln Center, NY in 2004. Some other important plays designed by him are Ismat Apa Ke Naam, Shyam Rang, Mrigtrishna, Jisne Lahore Nahin Vekhya and Madhyamvyayoga.
He has been a Theatre Critic for Mid-Day, New Delhi and has written articles and reviews for the Free Press Journal, Mumbai on Theatre and films and is currently a regular contributor to Hardnews, a magazine published from New Delhi since 2003.
He is currently working as head of Production Design in Whistling Woods International, Mumbai. He is also on the visiting faculty of several prestigious institutions including National School of Drama, New Delhi, Film and Television Institute of India,Pune, BNA, Lucknow, National Institute of Fashion Technology, Mumbai and National Institute of Design, Ahmedabad.
He made his mark as a Designer of substance with Shyam Benegal's Bharat Ek Khoj, Gulzar's Mirza Ghalib, Dr.Chandraprakash Dwedi's Chanakya and Nirja Guleri's Chandrakanta.
His important films as a designer are Ketan Mehta's Sardar Patel, Gulzar's Maachis & Hu-Tu-Tu , Govind Nihalani's Takshak and Anil Sharma's Ab Tumhare Hawale Watan Saathiyo. He has been a consultant for period details in Anil Sharma's Gadar and Mani Ratnam's Guru. He was commissioned by Encyclopaedia Britannica (India) to do an appraisal on Costumes in Hindi Cinema titled The Essence and Fabric for Encyclopaedia of Hindi Cinema published in 2003.
He is a recipient of the prestigious Bhartendu Harishchandra Award of the U.P.Hindi Urdu Adab Society for his contribution in putting literary works on stage.