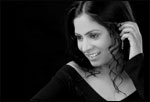 Seema Azmi (Actor) is a graduate from Delhi University and PG Diploma in Dramatics Arts with specialization in acting from The NSD New Delhi. She has worked with NSD Repertory Company for three years. She has been working in Theater for over 14 years and performed in over 50 plays with eminent Theater and TV/ Film personalities from both India and abroad.
Her acclaimed plays include ' Deewar Mei Ek Khidki Rahati Thi ' Dir Mohan Maharishi, ' Shila Shringar ' Dir Robin Das, ' Cherry Orchard ' Dir Tripurari Sharma, ' Ghasiram Kotwal ' Dir Rajender Nath, ' Antral ' Dir Ranjit Kapoor, 'Janneman' Dir Waman Kendare, 'Rakta Kalyan', 'Final Solutions' Dir Arvind Gaur, 'Macbeth' Dir John Russell Brown, 'Wedding Album' Dir Lillete Dubey etc.Her film credits include: 'Water' Dir Deepa Mehta, 'Saas Bahu Aur Sensex' Dir Shona Urvashi, 'Chak De India' Dir Shimit Ameen.
Apart from acting Seema has also directed a few plays. Amongst her directorial ventures are plays like : 'Gadhe Ki Baarat', 'Dear Diary', 'The Silent Front' etc.
Seema Azmi has performed in various theatre festivals all over India including : 'National
Theater Festival', 'Nandikar', 'IPTA Theater Festival', 'Prithvi Theater Festival' etc and overseas like: Muscat, Dubai, Singapore. Bangkok, Pakistan, London etc.