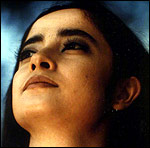 Sheeba graduated from Hans Raj College, Delhi University with a major in English Literature and an honours degree. Since then, she has acted in several plays such as August Strindberg's THE DREAM PLAY, Jean Genet's THE BALCONY, Samuel Beckett's WAITING FOR GODOT, Eugene Ionesco's THE CHAIRS and others.
Sheeba also helps run "The Company Theatre", a theatre group that has established its presence firmly in India as well as in a few countries abroad. Sheeba's acting talents have been well acknowledged and she has worked in other media such as the television and film too. Hindi cinema buffs will immediately recognize her as having played Aishwarya Rai's cousin in Sanjay Leela Bhansali's 'Hum Dil De Chuke Sanam'.
At present, Sheeba is involved with EVAM; a project initiated by "The Company Theatre" which is proposed as being a centre for Theatre research, training and production. More information about EVAM may be procured from the News' section of our site.