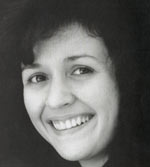 Theatre person and actor Shernaz Patel is undoubtedly one of the most popular faces of the Indian English theatre scene in the country. She developed a natural inclination for the theatre owing to her parents' influence. Her parents, Ruby and Burjor Patel are veteran theatre people who were very active on the Gujarati and the English stage. Shernaz therefore recalls having spent a lot of her time in green rooms, watching her parents who came to be very well-known themselves.
As a student of the Fort Covent school she participated in many plays under the direction of Pearl Padamsee. She graduated from the Elphinstone College which in her time had a very vibrant literature department. She was hence able to participate in many inter-collegiate and full-length plays. It was in the early eighties that she first cut her teeth on the professional stage with THE DIARY OF ANNE FRANK, directed by Janak Toprani.
Since then there has been no looking back. While she may have only done about two dozen plays to date, Shernaz says that she has been lucky to have worked with some of the best known directors like Nasseruddin Shah, Vijaya Mehta, Toni Patel, Lillete Dubey and Rahul Da Cunha. Some of her well-known productions include plays like ARMS AND THE MAN, LETTERS TO MY DAUGHTER, LOVE LETTERS and THE CLASS OF 84'. Forever keen to experiment and explore the various aspects of the theatre, she has also worked with a young experimental director like Rehaan Engineer. She acted in his production of MOLLY SWEENEY in 2005.
Before that in 2001 she was awarded the Charles Wallace scholarship which enabled her to do a Masters in Acting from the Glasgow based, Royal Scottish Academy of Music and Drama. This opportunity gave Shernaz a great deal of exposure to international theatre. While honing her acting skills she was able to work with a company called The Vanishing Point and did a play called THE SIGHTLESS with them.
Besides being a talented and a competent actor Shernaz is a keen supporter of the cause of theatre. In 1993 she along with Rahul Da Cunha and Rajit Kapoor formed the theatre company, Rage. The company has not only produced some famous productions like I AM NOT BAJIRAO but is also now involved in the pursuit of encouraging original plays in Indian English.
The company's 'Writer's Bloc' festival is now an annual event which takes place in collaboration with the British Council. Select writers go through a residential workshop and their plays are finally taken on by various directors to be actually performed. Shernaz is also enthusiastic about the innovative work that is being done by Marathi theatre people like Chetan Datar. The 'Writer's Bloc' festival is not fussy about only plays written in English. Plays are accepted from all Indian languages, provided that they are translated in English.
A lot of people today may instantly recognize Shernaz as the woman who played the young Rani Mukherjee's mother in Sanjay Leela Bhansali's critically acclaimed film Black. Besides the theatre, Shernaz has been exposed to other media too. She acted in Mahesh Bhatt's well-known telefilm called Janam and much before the satellite Tv invasion was also part of one of India's famous teleserials called Khandaan. In the early days of the television company UTV, she also directed and acted in many of their shows. One of her most well-known TV commercials has been for the corporate company, Johnson & Johnson.
Alongside her acting assignments and her administrative work at Rage, Shernaz also trains students interested in the theatre. For her month-long acting workshops, she firmly believes in imparting what she has learnt over a period of time. She believes in no particular school of acting and would rather go by her experience. And while she may call upon a yoga or a salsa teacher to loosen up her students, she ultimately involves them directly with the practice of the theatre.