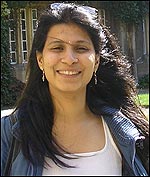 "And it was at that age... (it) arrived in search of me.. and something started in my soul."
That pretty much sums up Tasneem Fatehi's first brush with Speech and Drama. Whether she found the Hima Kala Kendra for Speech & Drama or it sought her out, is of little or no consequence. Having completed her Graded Examinations from the Trinity College of London, she participated in several plays staged by the Hima Kala Kendra as well as in several school plays, directed by Pearl Padamsee. It was here that she was made familiar with the several departments of theatre. She thereafter acquired a Licentiate from the Trintiy College of London. (LTCL).
Once bitten by the theatre bug and not shy of exploring newer avenues, she while completing her B A in English Literature at St. Xavier's College, Mumbai, taught with her teacher at her several centers and then went on to initiate her own centre in Prabha Devi. Tasneem has taught more than 1000 children over the last 10 years and has trained them for the Trinity College examinations, while conducting workshops in Speech & Drama and directing several children's plays.
She has also taught at several schools including Bombay International School, directing one of their annual plays 'Peter Pan'. Amongst her other assignments, she is teaching at Seva Sadan, a Marathi medium school, where through drama she is attempting to introduce English to the children. In addition she has conducted drama workshops for children at the Kala Ghoda Festival in 2005 and has conceptualized and directed performances with children for Studio Disney, a show on Toon Disney.
When she is not teaching, Tasneem is at the theatre. She works closely with Q Theatre Productions where she has helped run their annual youth theatre festival THESPO for four years and has been Executive Producer on one of their plays 'Chapter Two'. She has also been closely associated with The Industrial Theatre Co. where she has produced their last few plays, FIREFACE, THE SECRET LOVE LIFE OF OPHELIA and JUDITH.