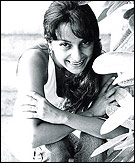 Trishla Patel says that she got hooked to the stage before she even knew it. The very first play that she acted in was called "See No Evil, Hear No Evil". The play which was about Gandhian philosophy was part of the Independence day celebrations in her school. She was around three or four years then and played the monkey who speaks no evil! She thus managed to act in plays all through her school years.
College was a different story. Here Trishla says she got too busy scoring good marks which would enable her to study law. Once in the Government Law College in Mumbai, theatre again became a part of her life. In any case she never felt that she had been distanced from it. She joined the theatre society of the law college and acted, wrote and co- directed Harold Pinter's THE HOMECOMING. The play won the first prize in a youth theatre festival called 'Kaliedoscope.'
Law virtually went out of the window for her and theatre made a good enough re-entry in the form of Feroz Khan's well-known play, MAHATMA V/S GANDHI. This thus became Trishla's first professional play. She mainly did backstage then along with small character parts in the play. The experience reassured her that she was on the right track. She had come full circle from doing a play on Gandhi as a child to a play on Gandhi as an adult!
Not the one to believe in coincidences but loving them nevertheless she let her fate take over and it dropped her hard enough into the lap of Pandit Satyadev Dubey who eventually became her mentor. There has been no looking back for her since.
After MAHATMA V/S GANDHI (1997), Trishla has acted in around twenty-four plays. Some of these include MAGIC PILL (1998), MAN OF LA MANCHA (1999), CYCLEWALLAH (1999), INSHAALLAH (1999), LAILA (1999), IT COULD HAPPEN ONLY IN LONDON (2000), THE BOY WHO STOPPED SMILING (2001), IRANI CAFÉ (2002), BANSURI (2004), BLACK WITH EQUAL (2005), MUCH ADO ABOUT NOTHING (2006).
In the process she has been able to work with some of the most well-known directors in Mumbai such as Sunil Shanbag, Shiv Subhramanyam, Makrand Deshpande, Atul Kumar, Ramu Ramanathan, Vikram Kapadia and not to mention the stalwart, Pandit Satyadev Dubey.
Her film experience includes the Yashraj film, 'Saathiya' (2002), 'Armaan' (2003), directed by Honey Irani, 'Cha Cha Cha' directed by Shiv Subhramanyam, 'Bunty Aur Babli' (2005), 'Yun Hota To Kya Hota' (2006) directed by Naseeruddin Shah. She has also done two short digital films to date. One of these films which has AIDS as its theme is called 'Phir Se Aashiyan Banayenge Hum' and it has been directed by Timothy Gaekwad. The other directed by Anand Gandhi is called 'Right Here, Right Now.'
For television she has acted in the popular daily soap, 'Jassi Jaisi Koi Nahin'. She has also acted in a few commercials and is now all set to act in a children's play called CAPTAIN INDIA which has been directed by Shiv Subhramanyam.